You are herePalm Springs - Where to Stay
Palm Springs - Where to Stay
---
Pilot Getaways - Palm Springs

Where to Stay
With over 140 hotels, Palm Springs has something for every traveler and every budget. Lodging ranges from four-star resorts to European-style bed and breakfast inns.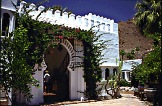 Historic Palm Springs, on the west side of Palm Canyon drive, offers some of the most unique and charming hotels in town. They are a welcome change from the conventional hotel chains. For more information, see the sidebar, The Historic Hotels of Old Palm Springs.
The Palm Springs Visitor Information Center can often find rooms when they're scarce and secure better rates than dealing directly with the hotel. Their services are free. Call them for hotel reservations and or a free 40-page vacation guide. Open daily 9 a.m. - 5 p.m. 2781 N. Palm Canyon Drive. (760) 778-8418 or (800) 34-SPRINGS. Website: http://www.palm-springs.org
Many major hotels provide complimentary airport transportation, including:
Courtyard by Marriott 760-322-6100 or 800-321-2211

Doubletree Resort 760-322-7000

Palm Springs Hilton 760-320-6868 or 800-445-8667

Hyatt Regency 760-322-9000

Ingleside Inn 760-325-2323 or 800-772-6655

Shilo Inn 760-320-7676

Spa Hotel & Casino 760-325-1461 or 800-854-1279

Wyndham Hotel 760-322-6000

For the unconventional, the Terra Cotta Inn touts itself as "A Premiere Couples-Only Clothing-Optional Bed and Breakfast." High season room rates are $119-$130, including poolside breakfast (coat and tie not required). (760) 320-6059 or (800) SUNNY-FUN.


Main Article: Palm Springs

Sidebar: The Historic Hotels of Old Palm Springs
Back to Pilot Getaways Home Page