You are herePalm Springs - What to Do
Palm Springs - What to Do
---
Pilot Getaways - Palm Springs

What to Do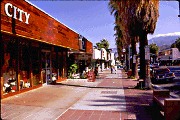 There's more to do in Palm Springs than enjoy the perpetual sunshine and lounge by the pool. Palm Springs has spectacular desert landscapes, rugged mountains, and is a mecca for golf and tennis enthusiasts from around the world. The city boasts more than 85 golf courses, 600 tennis courts, and 10,000 swimming pools. For some, lounging by the pool has produced more results than just a tan. Years ago, Marilyn Monroe was "discovered" here at the Racquet Club.
See the Town. Spend an afternoon strolling along elegant Palm Canyon Drive, the main promenade in the heart of Palm Springs. The drive is lined with shops, art galleries, antique stores and cafés, catering to a wide variety of interests. Each Thursday night from 6 p.m. - 10 p.m., the Palm Springs Villagefest transforms this area into a pedestrian outdoor bazaar. More than 200 arts and crafts vendors, food carts with international delicacies and live music contribute to the festive atmosphere.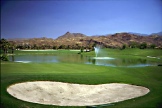 Golfing. The sprawling green below your aircraft on final to runway 31 is the Tahquitz Creek Resort. The resort boasts two renowned golf courses managed by Arnold Palmer Golf Management. Ted Robinson, Jr. designed the 18-hole championship Resort Course. Built in 1995, it features a links-style layout on 140 acres of rolling terrain with well placed bunkers. Over eight acres of water provide picturesque waterscapes to complement the spectacular views of Mt. San Jacinto. The Legend Course, designed by Billie Bell and built in the late 1950s, features mature, tree-lined fairways, undulating greens, and over 40 bunkers. We highly recommend Tahquitz Creek, not only for its striking beauty, but also for its courteous and friendly staff.
Rates for the 1998/99 Winter Season, including a golf cart, are: Resort Course: $60 Mon-Thu, $70 Fri-Sun, and $40 Twilight Rate (after 2 p.m.). Legend Course: $45 Mon-Thu, $55 Fri-Sun, and $30 Twilight Rate. For tee times or more information, contact Tahquitz Creek, 1885 Golf Club Dr., (760) 328-1005.
More than 85 additional golf courses are too numerous to describe. Further information is available from the Palm Springs Visitor Center, which publishes a Palm Springs Area Golf Guide (see listing under Where to Stay).
Snow? For some of the most breathtaking vistas in the desert, take Tramway Road 3 1/2 miles west of SR 111 to the Palm Springs Aerial Tramway. In just minutes, the tram whisks visitors from the desert heat to the cool, scenic, 8,500-foot level on the eastern slope of Mt. San Jacinto. There are cross-country ski trails and snowshoeing opportunities in the winter as well as 54 miles of summer hiking and horse trails, camping, and mule rides. The mountain station has a restaurant, lounge, picnic area, observation areas, and gift shop. Prices range from $11.65 to $17.65 for transportation only and $14.65 to $21.65 for "Ride & Dine," including dinner at the mountainside restaurant. Open 10 a.m. - 8 p.m. Mon-Fri, 8 a.m. - 8 p.m. weekends and holidays. (760) 325-1391.
Indian Canyons. Precious jewels of the desert, the Indian Canyons lie just 5 minutes from downtown Palm Springs. Hike through the canyons and see the largest fan palm oasis in the USA, narrow canyon grottos, waterfalls, lush ferns, and slot canyons with sides over 100 feet high. The canyons are on reservation land owned by the Agua Caliente Band of Cahuilla Indians, at the south end of Palm Canyon Drive. Admission: Adults: $5, Seniors: $2.50, Students: $3.50. Open daily 8 a.m. - 4:30 p.m. (760) 325-5673.
Desert Safari Tour Guides and Outfitters provides guided tours for those who prefer the insight of a wilderness guide. Guided tours are $10-$60. Open 8:15 a.m. - 4:15 p.m. (Oct 16 - Jun 30) and 8:15 a.m. - 12:00 p.m. (Oct 1-15, Jul 1-30). Other times by prior arrangement. (760) 776-6087 or (888) TO SAFARI.
Indian Gaming. More than 1,000 years ago, the Agua Caliente Band of Cahuilla Indians discovered Se-khi (boiling water) in the area now known as Palm Springs. Descendants of these Indians run the Spa Resort & Mineral Springs today. It offers 24-hour card games and video slots. After a hard day gambling, you can soak in the natural hot springs from the original mineral source that gave birth to the name "Palm Springs." The resort also features a luxury 230-room hotel and complimentary airport transportation. Located at 100 N. Indian Canyon Dr. Info: (760) 325-1461. Hotel Reservations: (800) 854-1279. Casino Information: (800) 258-2WIN.
Palm Springs Air Museum. Two air-conditioned, 20,000-square-foot hangars house one of the world's largest collections of World War II aircraft in flying condition. See the aircraft that played a major role in assuring our freedom in the 20th century. Located on the northeast corner of the airport at 745 N. Gene Autry Trail. Open daily 10 a.m. - 5 p.m. Admission: $6 - $7.50. (760) 778-6262.
Experience the Desert. There are a variety of ways to get out of Palm Springs and see the desert both on and off the road. Harley Davidson motorcycles are available for rent at Palm Springs Harley Davidson (760) 329-1448 and Route 66 Riders (760) 324-9755. Desert Adventures conducts guided two- and four-hour Jeep Eco-Tours in open-air Jeeps from Oct - May. (760) 324-JEEP.


Main Article: Palm Springs

Sidebar: The Historic Hotels of Old Palm Springs
Back to Pilot Getaways Home Page