You are hereMagazine / Behind the Scenes
Behind the Scenes
---
On the Road with Pilot Getaways!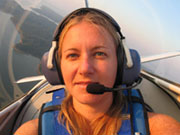 During the summer of 2004, I joined Pilot Getaways on a cross-country trip in their "photoship", a taildragger Cessna 185. Obtaining the images to be printed in the magazine is harder work than you might think.
This wasn't a leisurely trip - we covered 19 states and flew more than 80 hours. To take advantage of the best available light, photo shoots took place during early mornings and evenings. Furthermore, after our long days, we'd often have to fly several hours to reach our next destination. (As a student pilot, I relished in this and was more than happy to serve as the "auto pilot"!) A typical day began at 5am and ended at midnight, leaving us a bit sleep-deprived. Our accommodations varied greatly, from resort suites to FBO lounges.
I've assembled a collection of my photos documenting what it takes to bring Pilot Getaways to you. Not only will you see John flying formation while George takes photos through an open door, but you will see the careful preparations that make the air-to-air shoots possible, including pilot briefings, safety harnesses, and photography equipment.

Enjoy the images
Jessica Ambats
P.S. I've also posted photos of John's dog, Woody. He loves to fly and travelled with us everywhere. See his adventure here.