You are herePalm Springs - Transportation
Palm Springs - Transportation
---
Pilot Getaways - Palm Springs

Transportation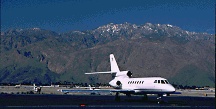 Unlike many southwestern cities, where the airport is in the middle of the desert, miles from town, the Palm Springs Regional Airport is conveniently located just 2 1/2 miles east of downtown. Perhaps the airport's proximity is because downtown Palm Springs is in the middle of the desert. This combination of a convenient airport, excellent weather, and the fact that most sights, restaurants and hotels lie within walking distance make Palm Springs an attractive fly-in destination.
Upon arrival, arrange complimentary transportation from one of the many hotels that provide it or take a short cab ride to downtown. Approximate taxi fares from Palm Springs FBOs are $8-$12 to downtown and $15-$20 to the Aerial Tramway or Indian Springs. Service available from VIP Taxi. Open 24 hours. (760) 322-2264.
Most major car rental companies are represented in the main terminal. They can deliver vehicles to the FBOs if given advance notice. During the winter season, AMR Combs provides a courtesy car on a first-come, first-served basis. There is a 2-hour limit on courtesy car usage.
If you want to be pampered, try Cardiff Limousine's chauffeured 1998 Lincoln Town Cars. Price to Palm Springs is $70 including tax and gratuity. Open 24 hours. (760) 360-4099.
Whether you're looking for a weekend of golf and relaxation or a gourmet meal in a relaxed setting, Palm Springs has something for you. See you on the golf course!

Main Article: Palm Springs

Sidebar: The Historic Hotels of Old Palm Springs
Back to Pilot Getaways Home Page