You are herePalm Springs - Casa Cody
Palm Springs - Casa Cody
---
Pilot Getaways - Palm Springs

A B&B Country Inn with a French Flair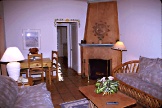 Hidden behind abundant bougainvilleas lies Casa Cody, a delightful bed and breakfast that combines Southwestern décor, French charm and Texas hospitality.
Anyone who has fond memories of that special pension or gîte in France will appreciate the ambience created by Propriétaire Therese Hayes of Normandy. The Inn's manager, Elissa Goforth, adds Texas hospitality that pleasantly surprises guests on their first visit, then keeps them coming back again and again. On return visits to Casa Cody, Elissa remembers guests' favorite rooms and special preferences, providing individual attention simply not devoted at larger establishments. One celebrity prefers to sleep with the Inn's mascot, a cat named Cody. His request is granted every time.
The first structure to occupy this site was an adobe home built by Harold Cody, cousin of Buffalo Bill Cody, in the early 1920's. After Harold's death, the dwelling grew into an intimate hotel run by his widow, Harriet Cody. The existing structures were augmented with cottages that had been used in the 1932 Los Angeles Olympics. Shortly thereafter, the main building was constructed. This building later became the quarters of General George Patton's officers when they trained for the North African campaign.
The hotel changed hands several times and suffered from neglect until the present owners, Frank Tysen and Therese Hayes, acquired it in 1986. Their goal was "to create a small inn with a friendly atmosphere and a taste of the Southwest and other desert cultures."
The result of their efforts is a charming bed and breakfast inn, with 23 single-story accommodations in five hacienda-style buildings. Therese's artistic influence as a former owner of the Los Angeles Art Gallery comes through in Casa Cody's tasteful design.
The Inn features saltello tile floors, handwoven Dhurri rugs, handmade Mexican pine furniture, Equipage chairs, Indian antique armoires, and wall hangings from Morocco and Turkey. Many rooms have wood-burning fireplaces. All but two have fully equipped kitchens and there are private patios galore. All is set in lush citrus filled gardens, which surround two pools and a secluded, tree-shaded whirlpool spa.
The Inn attracts a diverse clientele from artists and architectural photographers to Pulitzer-Prize winning authors and Oscar winners.
An adobe structure built in 1916 by Metropolitan Opera star Lawrence Tibbett is the most recent addition to the property. Among Tibett's friends was Charlie Chaplin, who is said to have regularly entertained on the elevated stage at the east end of the building. Renovation of the structure should be complete soon and it will be available for occupancy. Check with Casa Cody for rates and availability.
The Casa Cody B&B Country Inn is located at 175 S. Cahuilla Rd. Prices range from $79 for a single room to $199 for a two-bedroom suite. Prices are $10 lower Sun - Thu. For reservations of information call (760) 320-9346 or (800) 231-2639. Fax (760) 325-8610. Website: http://www.CasaCody.com
Thank you!
We hope you've enjoyed Pilot Getaways sample article on Palm Springs. This article is intended to show you the depth of coverage you'll receive as a subscriber to Pilot Getaways magazine.
You can read descriptions of the other exciting destinations we cover in our Current Issue.
A one-year subscription is only $17.95!

---
Contents
Main Article: Palm Springs
Sidebar:
The Historic Hotels of Old Palm Springs
Back to Pilot Getaways Home Page