You are herePalm Springs - Korakia Pensione
Palm Springs - Korakia Pensione
---
Pilot Getaways - Palm Springs

North African Nights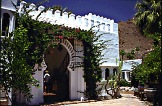 Escape to the enchantment of North Africa at Korakia Pensione, a Moroccan villa that evokes "1001 Arabian Nights." Walking though the stone archway brings guests into a stone paved courtyard with a central fountain and into another world. Across the courtyard, a whitewashed Moorish castle crowned with notched battlements rises against the backdrop of the rugged mountains. Two tall, ornately carved wooden doors open behind the keyhole-shaped grand entrance into the foyer.
The antiques furnishing the foyer are only a glimpse of what is to come. Each of Korakia's twenty rooms is decorated with artifacts from around the world. Doors from Afghanistan, couches from Thailand, shrines from Japan, a bed from Bali, showerheads from Mexico, even knickknacks from Los Angeles thrift stores join to create a harmonious whole.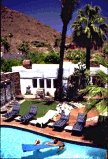 The villa is the former hideaway of Scottish painter Gordon Coutts. Coutts had always held a special love for Morocco, but was unable to return. He built the villa in 1924 to re-create a favorite place in Tangier and named it Dar Marroc (Dar means "house" in Arabic). Throughout the 1920's and 1930's, Coutts entertained artists and celebrities in Dar Marroc. Winston Churchill is said to have painted in the Artist Studio overlooking the central courtyard.
After Coutts' death in 1937, Dar Marroc fell into disrepair. By 1989, Astroturf and linoleum covered the floors, aluminum frames occupied the Moorish keyhole-shaped windows, acoustical tiles concealed the high ceilings, and the grand entrance was boarded up. Nevertheless, current owner J. Douglas Smith saw the property's potential, and in 1989 he purchased it and embarked on a four-year project to bring back the Bohemian atmosphere of Coutts' era.
An owner of a successful architectural firm, Doug had given up his café-bar on the Greek Island of Spetses to run a practice in Southern California. Despite his success, he yearned for the simplicity of life reminiscent of his days in Greece. One day, while drinking Retsina wine at a picnic in Palm Springs, he realized how much Palm Springs reminded him of Spetses. That insight led him to Dar Marroc, and Korakia Pensione was born.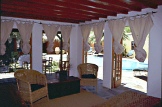 Korakia means "crows" in Greek and is named for the birds Doug saw on his hikes in the Greek mountains. The Bohemian atmosphere that attracted artists, musicians, and dancers in Coutts' time lives on today thanks to Doug. Contemporary artists continue to be drawn to Korakia. Magazines such as GQ, Vogue, Elle, and Marie-Claire as well as top fashion designer Donatella Versace and renown photographer Annie Liebowitz have conducted photo shoots here.
Of course, it's not just the architecture that attracts guests to Korakia. Doug strives to provide a level of service equal to the beauty of the hotel. Each guest is made to feel special and at home. Come on your birthday and you'll find champagne thoughtfully placed in your room. Mingle with the staff and you'll see they prefer to socialize with guests as friends rather than as hotel employees.
The unique combination of stunning architecture and friendly ambience inspired the Times of London to name Korakia "one of the top small hotels in the world."
You'll find Korakia Pensione four blocks west of Palm Canyon Drive at 257 S. Patencio Rd. Rooms range from $99 for a guestroom in the main house to $365 for the Nash House - a five-room suite stocked with champagne and paté. Credit cards not accepted. The front desk clerk accepts cash, check or travelers' checks at an antique wooden desk in the foyer. For reservations call (760) 864-6411. Closed July 18 until Labor Day.
---
Contents
Main Article: Palm Springs

Sidebar: The Historic Hotels of Old Palm Springs
Back to Pilot Getaways Home Page