Flying to the Bahamas
---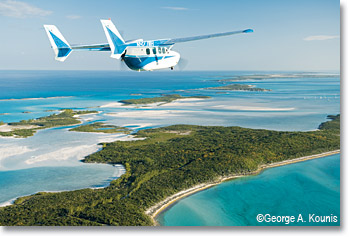 Planning Your Flight to the Tropics
by John T. Kounis


[Note: The article that appears here was the Flying Tips article published in the March/April 2008 issue of Pilot Getaways.]
I vividly remember the excitement of my first international flight. Although it was just a 20-minute jaunt across the U.S.–Mexico border, I had been apprehensive weeks in advance. But the actual crossing was mundane. The engine kept droning along, oblivious to the fact that we were now in foreign airspace. That's when it became clear that flying internationally is simply a matter of a little bureaucracy, and is well worth the effort.
Flight Planning
Pilots who have not flown abroad may be apprehensive about flying to the Bahamas, especially if they haven't flown over water before. However, with a little advance planning, most pilots have found the flight goes smoothly and leaves them with lasting memories.
Trip Preparation
Apply for your passport well in advance. Recent changes in passport requirements have resulted in many new passport applications, increasing the processing time beyond the official three to four weeks.
Verify that you have the standard aircraft and pilot documents that are required for any flight: a pilot certificate and a current medical for you, and airworthiness and registration certificates, operating limitations, and weight and balance for the airplane. You'll need the permanent aircraft registration; a temporary "pink slip" is not valid for international travel. International flights require a radiotelephone operator's license for you and a radio station license for the airplane. To get them, submit three FCC forms (159, 160, and 605), along with a $50–$100 application fee. Download the forms from the FCC's website or apply online, (202) 418-0680, http://wireless.fcc.gov/services/index.htm?job=licensing&id=aircraft_stations. Also, check with your insurance agent to confirm that you are insured in the Bahamas.
Get a customs user fee decal, which costs $27.50 and is valid for one calendar year, at www.cbp.gov (click "Travel" and then "User Fee Decals and Transponders"). For more information on customs procedures, download the "Guide for Private Flyers" from the CBP's Travel page.
U.S. Coast Guard-approved life jackets are required for each occupant; a life boat is recommended as well. Hangar 63, Banyan's Aviation Store at Fort Lauderdale Executive Airport (FXE), sells vests for $46 and Survival Products life rafts for $1,095– $1,295, Mon–Sat 8 a.m.–7 p.m., Sun 9 a.m.– 6 p.m., (954) 493-8615 or (888) 305-4932, www.hangar63.com. You can also rent life vests for $6 per day or rafts for $35 per day at Banyan's FBO counter, open 24 hours, (954) 491-3170, www.banyanair.com. Ask them for a Bahamas packet, with all the forms you'll need as well as useful information. The staff will even help you fill out the forms.
If you'll be flying over water regularly, you may want to upgrade to lighter, more comfortable vests, like SOSPENDERS. Their Coast Guard-approved, inflatable Nomex vest has multiple pockets for gear, $219. One of the most useful items you can put in those pockets is a Personal Locator Beacon (PLB), such as the ACR Microfix that I carry, $650. Both the PLB and the vest are available from Prepared Pilot, (801) 455-5271 or (866) 869-9639, www.preparedpilot.com.
The Miami Sectional Aeronautical Chart covers the western Bahamas, including Nassau, Freeport, Treasure Cay, north­western Eleuthera, and the northwestern Exumas. To go any farther east or south, you'll need the CH-25 or CJ-26 WAC charts. The "Bahamas & Caribbean Pilot's Guide" by Pilot Publishing is an indispensable, illustrated airport directory for the Bahamas, and most of the Caribbean including Cuba, the Virgin Islands, Puerto Rico, and U.S. airports of entry in Florida. Caribbean Sky Tours provides one copy for each airplane on their group trips, and to customers of their vacation planning services, (786) 206-6147 or (866) 420-9265, www.caribbeanskytours.com. It is also available through Pilot Getaways, (818) 241-1890 or (877) 4-AVBOOK, shop.pilotgetaways.com.
Flying to The Bahamas
Twelve-inch N-numbers are required on aircraft in the ADIZ. If they're not painted on, you can use duct tape like I do. File an international VFR or IFR flight plan and activate it before you penetrate the ADIZ eastbound. You should request customs by indicating "ADCUS" on your flight plan, although it's a good idea to call ahead and confirm Bahamian customs availability if you're flying into a small airport with irregular customs service.
The overwater distance is about 50 nm from the Fort Lauderdale/Miami area to Bimini and another 60 nm to Andros Island. From the West Palm Beach area, it's about 60 nm over water to Grand Bahama Island (where Freeport is). You can fly most subsequent legs by "island hopping" with shorter overwater distances, and you'll usually be in sight of land the entire time.
Your first landing in the Bahamas will be at an airport of entry. Close your flight plan by using a "blue phone" that is available at all customs airports. It has speed-dial buttons for free telephone connections to Bahamian and U.S. flight service stations and customs facilities. Many airports in the Bahamas also have good, but expensive, cell phone coverage for GSM (AT&T or T-Mobile) phones. CDMA (Sprint/Verizon) phones will likely not be able to roam outside of Nassau, Freeport, or George Town. Roaming calls from U.S. cell phones run around $2 per minute.
Check in with customs and immigration to show your aircraft paperwork and passports, fill out a form C7A (Inward Declaration and Cruising Permit for Private Aircraft Entering the Bahamas), provide a general declaration form for your flight, and receive Bahamas Immigration cards. You can download a C7A at www.bahamas.com/assets/content/pdf/PilotC7form.pdf.
Flying in The Bahamas
Flights from sunset to sunrise must be made under IFR; otherwise, most rules are similar to the United States. Fuel prices are also on par ($5.25 per gallon at Exuma International as of February 2008). An innovative document called the "Pilot Bill of Rights" outlines all the services to which visiting pilots are entitled at any Bahamian government airport: no landing fees, tie­down fees, or customs & immigration overtime fees for any single-engine, non-commercial, aircraft under 6,000 lbs. For aircraft over 6,000 lbs., fees are reasonable; for example, the landing fee for a Cessna 337 at Exuma International was $6. (Fees at private airports may be different.) When you compare the language in the Bahamian Pilot Bill of Rights to the U.S. Customs Guide for Private Flyers, which lists all the violations you can make that could subject you to a $5,000 fine, it becomes apparent just how pilot-friendly The Bahamas are.
Returning to the U.S.
You'll need to clear Bahamian exit customs at an airport of entry. Return your C7A, turn in The Bahamas Immigration cards, and pay a $15 per person departure tax at customs. You can file a flight plan back to the U.S. on the blue phone. You must also call the U.S. Customs office directly to inform them of your ETA at least 60 minutes in advance. When you call, request the ID of the officer you speak to (e.g. "Tango-Alpha").
You must clear U.S. customs at the airport of entry closest to the point that you cross the coast. For example, you cannot clear customs in Orlando; you would have to clear at West Palm Beach International (PBI) first. The list of approved airports is in the CBP "Guide for Private Flyers."
If you are on a VFR flight plan, contact Miami IFSS at least 15 minutes before you penetrate the ADIZ westbound for a squawk code. Miami ARTCC handles ADIZ notification automatically for IFR aircraft. If you're running late, ask Miami IFSS to update your ETA with customs, since you are not permitted to arrive later than 15 minutes past your ETA. You also can't arrive early, so slow down or fly S-turns if you have to.
When you land in the U.S., taxi to customs and park in the specially marked area in front of the building for clearance. You'll need to show your customs decal, fill out an arrival report and immigration cards, and show your passports.
Additional Resources
The Bahamas actively promotes general aviation. To learn more, contact Keith Gomez, the Aviation Specialist for The Bahamas Tourist Office, (954) 236-9292 or (800) 32-SPORT, flying.bahamas.com. For more information on flying to The Bahamas, vacation planning services, or to join an escorted fly-in, contact Caribbean Sky Tours, (786) 206-6147 or (866) 420-9265, www.caribbeanskytours.com.