You are herePalm Springs - Ingleside Inn and Melvyn's Restaurant
Palm Springs - Ingleside Inn and Melvyn's Restaurant
---
Pilot Getaways - Palm Springs

Movie Stars' Hideaway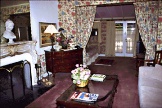 On West Ramon Road a circular driveway leads unpretentiously behind a tall hedge. Once you enter that driveway, it becomes obvious you are approaching a place that attracts celebrities and dignitaries from around the world. You'll pass the inevitable Rolls Royce before reaching the valet, who welcomes you to the Ingleside Inn and Melvyn's Restaurant. An official Palm Springs Historic Landmark, the Ingleside Inn has twice been named "One of the Ten Best" by the TV Show "Lifestyles of the Rich and Famous."
The Inn's brochure proclaims "Garbo Slept Here." She is in good company. Other patrons include President Gerald Ford, Howard Hughes, Marlon Brando, Salvador Dali, and Lucille Ball, as well as more contemporary celebrities such as Donald Trump, Arnold Schwarzenegger, and Tom Selleck.
Built in 1925, the hotel was originally the Spanish-style estate of the Humphrey Birge family, owners of the Pierce Arrow Motor Car Company. Palm Springs councilwoman Ruth Hardy purchased the property 10 years later and converted it to an exclusive 20-room inn, which she operated as a private club. The Inn did not accept reservations. Visits to the club were by invitation only.
After Mrs. Hardy's death in 1965, the Inn fell into disrepair until Melvyn Haber, a New York businessman, came across it while on vacation in 1975. He fell in love with the Inn on first sight and decided to buy it within 15 minutes. His extensive renovation resulted in an Ingleside Inn worthy of its glorious past.
No two rooms at the Inn are alike. Elegant furnishings, antiques and tasteful art give each room unique charm. Step into the Library with elegant Queen Anne furniture and a canopy bed. Try the Lily Pons room with Louis XV furniture, which so enchanted the diva and her husband, André Kostelanetz, that they came for a night and stayed 13 years.
Fly-in guests can begin their vacation in luxury from the outset, as the Ingleside Inn's limousine provides complimentary airport transportation.
Rooms start at $95, luxurious suites from $295. The gourmet restaurant, Melvyn's, has entrées from $22. Located at 200 West Ramon Rd. in Old Palm Springs. For reservations call (760) 325-0046 or (800) 772-6655. Website: http://www.inglesideinn.com
---
Contents
Main Article: Palm Springs

Sidebar: The Historic Hotels of Old Palm Springs
Back to Pilot Getaways Home Page