Blogs
---
Jasper National Park, Alberta, Can.—The Jasper Airstrip (CYJA), located within Canada's Jasper National Park, is now open to pilots for non-commercial use. The airstrip had been designated as "emergency use only" for many years; its reopening for public use came after lengthy efforts by the Canadian Owners and Pilots Association (COPA). The turf airstrip is maintained year-round; its 3,990 x 150 foot Runway 13/31 appears on Canadian charts at 52° 59' 48N, 118° 03' 34W.
About 2 years ago, with our third child on the way, I knew I had to upgrade from the 4-place C182 I had been flying for a few years to something with at least one more seat. I love loading up the family and flying off to some new adventure, and if I wanted to keep doing that I was going to need a bigger plane. Not soon after I ended selling out of my 182 partnership and buying into a Cherokee Six partnership and now I had a bigger mode of transportation for these family adventures.
I started flying when I was 17 in Coeur d'Alene Idaho, also known as COE, in pilot speak. Other than my cross country flights during training in a C172, I had never been able to make what I considered to be a true cross country: more than 500 miles. The biggest reason for this was the fact that renting an airplane for that amount of time simply to fly somewhere far away, is an expensive proposition for a college kid.
After reading and saving Pilot Getaways magazines for several years, I hit the jackpot with the January/February 2013 issue. Typically, I read through each issue marking the potential trips I'd like to take so that a given trip will be easily found when the time is right.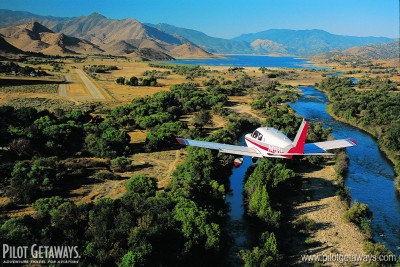 At EAA AirVenture Oshkosh, we spent a lot of time touting the joy of airplane camping to our pilot friends. Some, like Ramona Cox, a.k.a. "Sky Chick," are avid airplane campers who have pitched their tents in remote corners of the world. Others were new to airplane camping and just wanted an introduction. So we hatched a plan to host a fly-in at Kernville Airport (L05) by Lake Isabella, California as an intro to airplane camping.
Kernville Airport was featured in our Fall 2001 issue as a fly-in camping destination less than an hour's flight from Los Angeles.