Spring Break in Destin
---
About 2 years ago, with our third child on the way, I knew I had to upgrade from the 4-place C182 I had been flying for a few years to something with at least one more seat. I love loading up the family and flying off to some new adventure, and if I wanted to keep doing that I was going to need a bigger plane. Not soon after I ended selling out of my 182 partnership and buying into a Cherokee Six partnership and now I had a bigger mode of transportation for these family adventures.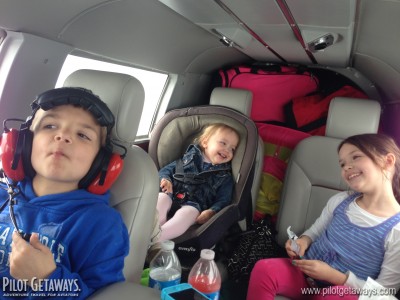 I have been a subscriber to Pilot Getaways for several years and always enjoyed the very detailed articles about all wonderful and far flung destinations I could take the family. With my wife's family in Chicago most of my cross country flying had been the couple hours between St. Louis and Chicago, or the occasional trip to a Midwest wedding, or summer trips up to Wisconsin. Now with a 6-seat heavy-hauler as a resource I wanted to plan a trip with longer legs, a real adventure for the whole family.
I used the very helpful Pilot Getaways website and the graphical index feature to find a destination within a reasonable flight from St. Louis. We were looking to fly over the kids' spring break in mid-March and considering the weather, we wanted to go south. With that in mind I zeroed into the gulf coast and then onto Destin Florida. While I don't have all the back issues of PG, I did have the May/June 2006 issue with detailing Destin & Fort Walton Beach. After re-reading the article and doing some early flight planning I decided Destin it was and the whole family was excited to head to the beach for Spring Break.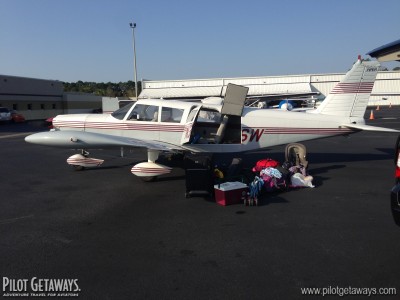 A couple months later it was time to go. The weather forecast was fantastic for flying considering the miserable winter we were having. The Cherokee Six is such a venerable airplane, docile to fly, and lots of useful load (over 1000 pounds). We loaded up the five of us with all our bags including a pack-n-play, stroller, life jackets beach toys and cooler with snacks and drinks for the trip. Even with all that, plus full fuel, we still had over 300lbs before Max GW and the plane jumped off the runway with 500ft/min climb up to 7000ft.
In looking at a VFR chart, flying into Destin seems daunting with all the hashed-outlined restricted airspace. It a mess of purple, blue, white akin to what my toddler might draw up with some crayons. However, there are some very clear and easy to follow rules that will keep you clear of staring down the wrong end of a FA-18. Going IFR or VFR Flight Following is the easiest, since you will be simply handed off from Center right to Eglin Approach and they route you around (or over) Eglin straight into the active runway at Destin.
We landed at Destin and taxied to the north end of the field to Destin Jet, based on a recommendation from a Destin regular. The Destin Jet staff was extremely helpful and very friendly. They had our rental car pulled right up to the airplane and the linemen unloaded all of our luggage before I could put in the control lock. After short drive from the airport to the rental condo we were on the beach within 30-minutes of touch-down.
Spring Break at Destin is not a rowdy as your other destinations like Panama City, Daytona or South Padre, but there are a fair amount of college kids there with your typical rambunctiousness. Although I never saw anything that made me shield the kiddos eyes. There were a lot of Snowbirds still around and lots of families and their young kids, too—an overall relaxed destination without the troubles found in more popular college spring break destinations.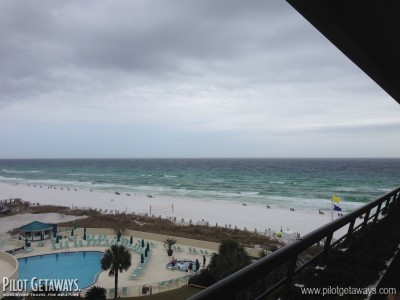 We stayed at the Edgewater Beach Condos in Miramar Beach, just east of Destin. It offers excellent ocean-view condos, with a private beach, free beach chair service, heated pool, large fitness room, and lots of security. Our rental rate was on par with other condos in the area and our unit was freshly remodeled with all the amenities you could need for a week.
Many Gulf-coast regulars I spoke with warned me that March can be "hit-or-miss" with temps averaging the 60s and a lot more chances for rain versus other times of the year. Our weather was both hit and miss with rain and 50s a couple days and sunny with high 60's the rest of the days. Overall we got lots of beach time in.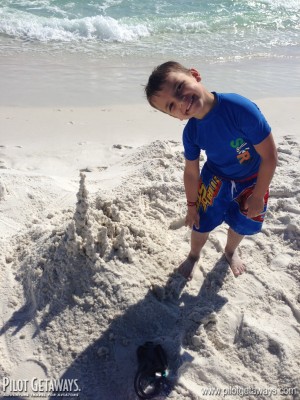 Besides the beach time, we enjoyed some of the sights and attractions Destin had to offer. In addition to those pointed out in the PG Article, the kids really enjoyed the Buccaneer Pirate Ship cruise that sails out of the Harbor Walk Village. There is a very nice indoor/outdoor "Gulfarium" with interesting marine life exhibits. Lots of shopping and activity rentals you could come to expect and any popular vacation spot. We even saw a Water Jet Pack rental, although I'd rather kept my "flying" to fixed-winged aircraft.
We ate lots of gulf seafood on the trip, including at The Back Porch, a recommendation from Destin Jet staff who gave us a coupon for their excellent Smoked Tuna Salad dip. I had the Chargrilled Amberjack and some oysters. The kids menu had lots of options and the service was very quick with a great view right on the beach.
We made a dinner trip over to kid-friendly "Fudpuckers" where they serve lots of "Fud." I would agree that you may not want to call it "food," but the kids did enjoy the live alligator exhibit, kiddie cocktails, and even ate (and enjoyed) the fried gator tail appetizer. They have a large arcade there and is a great rainy day activity should you be forced indoors for a while. The rest of the fare was on par with your average themed restaurant.
Departing Destin is just as easy as coming in. Regardless of IFR or VFR you contact departure on the ground, then they release you with departure instructions and you contact Eglin departure once airborne. There are clear instructions are posted everywhere and communication with their controllers is easy.
Overall it was a great trip and marked another exiting family adventure to remember for a lifetime!
- Steven Wood, St. Louis, MO