Airplane Camping at Lake Isabella
---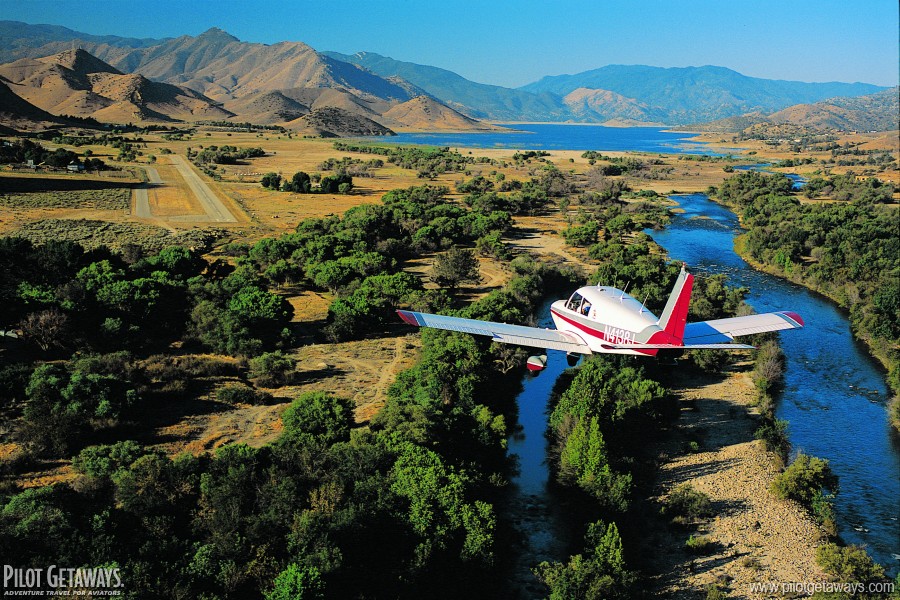 At EAA AirVenture Oshkosh, we spent a lot of time touting the joy of airplane camping to our pilot friends. Some, like Ramona Cox, a.k.a. "Sky Chick," are avid airplane campers who have pitched their tents in remote corners of the world. Others were new to airplane camping and just wanted an introduction. So we hatched a plan to host a fly-in at Kernville Airport (L05) by Lake Isabella, California as an intro to airplane camping.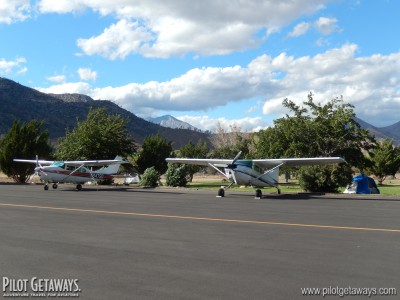 Kernville Airport was featured in our Fall 2001 issue as a fly-in camping destination less than an hour's flight from Los Angeles. An airport campground on the west side of the runway near midfield has several campsites, running water, toilet facilities, and even an electrical outlet to charge your iPhone (or perhaps to run your hair dryer if you simply cannot leave home without it). Across the airport, the airport restaurant serves breakfast and lunch in case you don't feel like cooking. A courtesy car and self serve fuel round out the airport amenities. With so many modern comforts, we felt Kernville would be a good place to introduce people to airplane camping without the challenge of really "roughing it."
However, all the neophyte campers we invited ended up canceling, so our trip evolved into an airplane-camping trip with friends. Ramona "Sky Chick" Cox, Pia Bergqvist, Senior Editor of Flying magazine, and Pia's son Benjamin flew in the day before our arrival. George Kounis and I joined them on Saturday. The first day was spent socializing with several pilots, including a group from Ramona's home airport, Zamperini Field Airport in Torrance, California. Turnout was low, due to the strong gusty winds with crosswind components as high as 20 knots at times. A few airplanes even made it as far as short final before going around and returning home.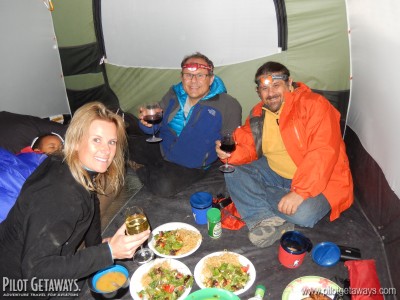 Winds increased that night, requiring us to secure the tents with guy wires lest they flatten or blow away. The wind precluded us from cooking steaks over an open barbecue pit. Thankfully, the ever-prepared Sky Chick had salad fixin's and soup. Along with the garlic, rosemary & parmesan pasta that I prepared, we were able to enjoy a filling meal after we sought shelter in Ramona's tent from the driving winds.
The next morning, we had several options to explore the area. Airport manager Rick Lach suggested either Remington Hot Springs, a half-hour drive away in the courtesy car, or a little-known swimming hole just a short hike away. We opted for the hike.
As we set out on the dry, dusty trail, stepping over rocks and around parched shrubs, we were pretty pessimistic about finding water. But after 2 1/2 miles, we walked around a 20-foot-diameter boulder beside the trail and looked down into a ravine. Below us was a crystal clear, blue-green pool. A waterfall on one side filled another, slightly deeper pool that then drained into a small creek that wound its way out of sight through some small trees. Large rocks on a ledge beside the pools were a perfect spot for a picnic. The sun had warmed the pool to a not-so-chilly 70 degrees or so—warm enough that a couple of members of our party (including me) braved the waters for a refreshing swim.
A hot springs afficionado, Ramona said that this was her "new favorite pool," despite the fact that the water wasn't hot. I was just happy to discover such a hidden gem within a short hike of an airport that is so easily accessible from just about anywhere in Southern California.