Camping
---
Most pilots, including myself, have a "bucket list" of places where they want to fly. After 1,500 hours, and 30 years, of flying around Canada and the US, from Alaska and the Yukon and Florida to California, and some in Europe, I was looking for another "adventure." I started flying in East Africa, where I got my private license when I was working in Kenya in the mid 70's. I then returned to the US and converted the Kenya license to a FAA certificate, picked up an instrument rating, and currently fly a Lancair Legacy I built in 2008.
After reading and saving Pilot Getaways magazines for several years, I hit the jackpot with the January/February 2013 issue. Typically, I read through each issue marking the potential trips I'd like to take so that a given trip will be easily found when the time is right.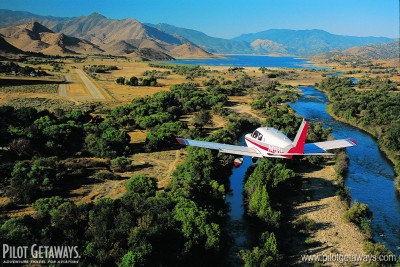 At EAA AirVenture Oshkosh, we spent a lot of time touting the joy of airplane camping to our pilot friends. Some, like Ramona Cox, a.k.a. "Sky Chick," are avid airplane campers who have pitched their tents in remote corners of the world. Others were new to airplane camping and just wanted an introduction. So we hatched a plan to host a fly-in at Kernville Airport (L05) by Lake Isabella, California as an intro to airplane camping.
Kernville Airport was featured in our Fall 2001 issue as a fly-in camping destination less than an hour's flight from Los Angeles.
After seeing on the pilotgetaways.com web site that the Silver West airport (C08) was open to on-airport camping, I couldn't wait to try it. I had done a touch and go there a couple of weeks prior when flying from my home airport near Colorado Springs (Meadowlake, KFLY) to the San Luis Valley. I was struck by the setting of the airport and the magnificent views.