Australia - An "Outback" Flying Adventure
---
Most pilots, including myself, have a "bucket list" of places where they want to fly. After 1,500 hours, and 30 years, of flying around Canada and the US, from Alaska and the Yukon and Florida to California, and some in Europe, I was looking for another "adventure." I started flying in East Africa, where I got my private license when I was working in Kenya in the mid 70's. I then returned to the US and converted the Kenya license to a FAA certificate, picked up an instrument rating, and currently fly a Lancair Legacy I built in 2008. So, in 2012, I headed "down-under" to Australia for a three week, 5000-mile, 40-hour flying adventure with my son-in-law to be.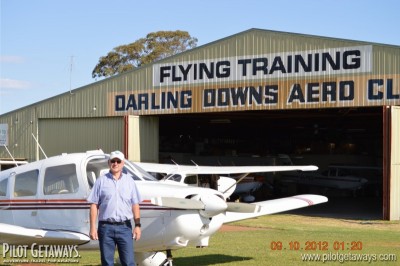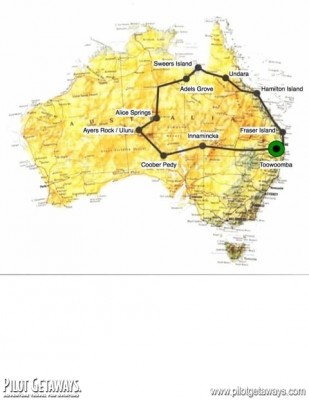 In the end we decided on a circular 5000-mile route starting out from Toowoomba, which is about 100 miles west of Brisbane our arrival point in Australia from the US. Then we flew west to the center of the continent in the outback (to Alice Springs), then north to the Gulf of Carpentaria, then south along the Pacific Coast, and back to Toowoomba where Darling Downs Aero Club is located and where we rented the plane. During the trip we were in about 15 airports and stayed in 9 different places over-night (see route map). About one-third of the airports were remote dirt strips with no services or gas of any type, one-third were paved but with limited services (usually but not always with avgas), and one-third full service airports but only three with control towers.
For those who are interested, and good at Google map etc., you can view the sites we stopped overnight at including Toowoomba, Innaminka, Dig Tree, Coober Pedy, Ayers Rock, Alice Springs, Tennant Creek, Adel's Grove, Sweer's Island, Einasleigh, Undara, Hamilton Island, and Hervey Bay. We did not encounter any airports I would rate as "difficult" to land at, and even the dirt strips were about 3000 feet. This is basically because everyone needs access to the flying doctor service (which uses King Air and Pilatus aircraft), and there are few trees, rivers, or hills/mountains to create obstacles.
The first stop was in Innaminka, a small remote town with a dirt strip where we stayed in a bunk house near a major oil exploration area. Next was "Dig Tree", another dirt strip and the site of the end of an ill-fated 1860 attempt by a couple of Englishmen (Burke and Wills) to cross the continental desert some 2000 miles south to north by camel. Coober Pedy, which calls itself the Opel mining capital of the World and where most accommodations "underground", was next. Alice Springs followed and is the only full service town in the center of the continent and outback. This is the headquarters of Flying Doctor, and railway, road, telegraph, and Connellan Airways museums which we visited and which helped open access to the outback.
Ayers Rock was next and it is a major Aboriginal site and tourist destination; Adel's Grove was a remote dirt strip camp in the North where we stayed in tents along a creek. Sweer's Island was another remote dirt strip on a small island off the North Coast of Australia in the Gulf of Carpentaria, where we went reef fishing in the Gulf. Undara was a dirt strip at a remote camp/ranch where we stayed in 1890 railway cars and explored a large network of underground lava tubes. Einasleigh was a noon stop over were we had an interesting lunch in a very small "one bar" several house town. The owner was an interesting fellow, and the bar is for sale for $450,000 if you are interested. Next overnight stop was Hamilton Island; a very nice 5 star, expensive resort on the East Coast where we were able to go scuba diving on the Great Barrier Reef. Then we flew to Hervey Bay, where we stayed for several days on Fraser Island which is the largest sand island in the world and a UNESCO World Heritage Site.
The final leg was back to Toowoomba where the trip ended. By the way, Brisbane, the international gateway where we entered and departed Australia, via Air New Zealand, is also a very nice city. Plus you can stop off, as we did, for a week in New Zealand on the way down from the US with no additional airline charge if you are flying Air New Zealand.
I would encourage any pilot with varied experience, including some flying in remote terrain, to take a similar trip. If I went to Australia again I might organize a flying adventure on my own. But for the first time I recommend that you work with an individual or organization that is familiar with flying in Australia to put your trip together. I worked with Air Safaris International which provided excellent logistical support.
I make the recommendation to get some logistical support for your initial foray to Australia for several reasons. First, dealing with the CASA CoV process, and making arrangements in remote areas may require some personal and local "interventions" to overcome hick-ups. Second, the security regulations at improved, including remote un-manned airports, are more stringent than in the US. In the US, as long as there is no scheduled commercial airline service you can move around on an airport. In Australia you must have a security cleared person accompanying you leaving your plane on landing or on departure at most airports, except for the more remote dirt strips, and getting a CASA security clearance card is not easy. Third, navigation and getting fuel and accommodation in remote locations must be well planned in advance, and even when we did this we could not always get full fueling. Once we were told that fuel delivery truck broke down and remaining fuel was reserved for mail and the flying doctors service. Any weather or other delays, which occurred at the start of the trip, may result in arrival at a place where there is no accommodation or avgas. Finally, having several planes together, we had three including one with an Aussie Pilot, is common sense and good risk management.
Flying the Australia outback is unique, and while not for everyone, it can be rewarding for those looking for an interesting and challenging flying adventure. This is really the only way to see the Outback, and many Australians noted we had been to places they had not seen. PS: I really missed my Lancair!!

- David Fretwell, Paso Robles, CA