Memorial Day in Montana - Day 3
---
Click here to read about day 2 of this adventure.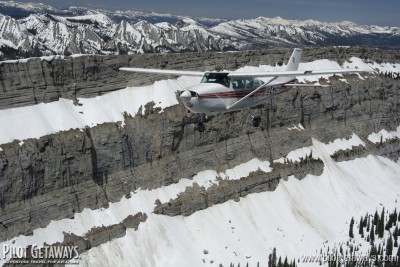 Ramona had never had professional photographs of her airplane, so she talked us into flying over the Chinese Wall for air-to-air photography. We had flown 477 nm from Battle Mountain to Schafer; Ramona had flown 300 nm from Caldwell, but she took a circuitous route due to weather, so we were both low on fuel. The fuel situation limited our air-to-air time, but we still hoped to get at least a few publication-worthy images.
Ideally, a photo shoot should be conducted at sunrise. In fact, we often take off before sunrise in order to catch the first rays of sun striking the mountaintops, which occurs a few minutes before the sun rises in the valleys. In this case, however, the group operated at a more lax pace, and we took off around noon. The midday turbulence limited our ability to maintain a tight formation, but we were able to get a few photographs at the Chinese Wall and in the pattern at Schafer.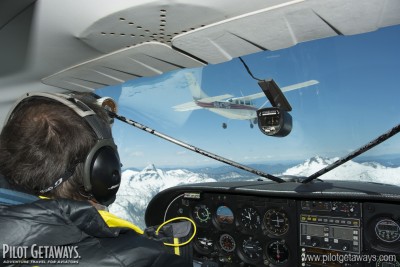 Kalispell City Airport [featured in our Fall 1999 issue] makes an excellent fuel and resupply stop for backcountry pilots. It's just west of the Montana backcountry and has a good restaurant, hotel, and supermarket right next door, as well as inexpensive fuel. Since both Ramona and I were getting low, stopped for fuel and enjoyed delicious elk burgers at Scotty's Bar across the street.
Our intent was to then fly to Ryan Field Airport [featured in our Sep/Oct 2011 issue], a new backcountry airstrip established a few years ago by the Recreational Aviation Foundation. This grass airstrip right on the edge of Glacier National Park is an excellent destination for camping and hiking. We were hoping to borrow the courtesy car for a tour of the park and a drive up the famous Going to the Sun Road.
Ramona spoiled the fun when she pulled up a radar image on her iPad showing an approaching area of thunderstorms and rain showers. That resulted in a mad dash back to the airplanes and a direct flight back to Schafer, so we would not get stuck in Kalispell while all our food, tents, and sleeping bags were at Schafer.
As we crossed the mountains and descended into the canyon formed by the Middle Fork of the Flathead River, we could see clouds looming above the horizon to the south. XM Weather revealed that the Chinese Wall, just about 20 or so nm south of us was already being pelted by rain. Fortunately, we were far enough ahead of the storms thanks to Ramona's forethought that we landed with clear skies and calm winds.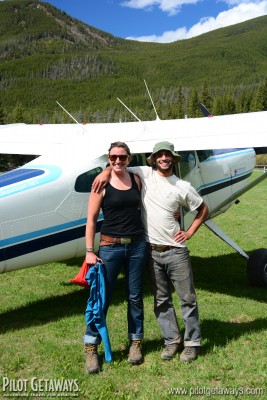 There were still a few minutes remaining before the weather would descend upon us. I remembered that two young forest service volunteers had asked us the previous day for an airplane ride. One of them had never been in an airplane before. George went to the ranger station to let them know that now was their chance, and they came running back to the airplane.
This couple had walked in 15 miles from the trailhead, and were accustomed to walking 10, 20, or even more miles into the backcountry to do trail maintenance. As soon as we lifted off, their faces were glued to the windows. "There's Three Forks!", one exclaimed. Then the other would yell out some other landmark, and they would jump to the other side of the airplane. In 15 minutes, we toured more of the area than they could cover in a week on foot. After landing, they couldn't stop talking about the flight and the sights they had seen.
It wasn't long before the rain started, so we quickly retreated to our campsite to secure our gear and build a fire. While we were battling trying to ignite our soggy wood, we looked up and saw the two volunteers walking through the forest toward our campsite. In their arms they each held a huge stack of dry firewood. We spent the rest of the evening around the campfire drinking wine and telling stories about flying and hiking adventures.