You are hereMoose Creek - Flying There
Moose Creek - Flying There
---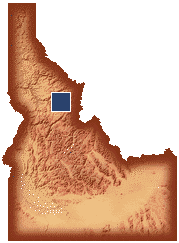 Although the Moose Creek airfield is never officially closed, you will need skis during the snow season. During the spring and late fall, the longer runway can remain soggy and should not be used. During the summer, forest fires may bring smoke-jumping operations to Moose Creek. Wildfire smoke can also reduce visibility to hazardous levels, especially in the canyons, so check with the Moose Creek Ranger District, (208) 926-4258, to confirm airfield conditions.
Flying to Moose Creek Airport involves true backcountry flying skills. Some mountain flying proficiency is imperative. One is not merely flying high over the mountains but down into a canyon between them. As in many backcountry strips, the traffic pattern will require maneuvering in a confined area. You need to be comfortable using short, one-way landing strips.
If you do not have this kind of experience you may want to spend some time flying with your friendly neighborhood mountain pilot. If she is unavailable, a good place to stop by is Orofino. This municipal airport can serve as a warm up with its 2,500-foot paved runway since it is also in a canyon and requires bending your pattern around terrain, but with more options for a go-around. You can also talk to the folks at Orofino Aviation who fly for the Forest Service and run charters into Moose Creek.
Plan your arrival and departure at Moose Creek for mornings or evenings. During midday and afternoons, the converging canyons can make the air squirrelly. Since you will also be maneuvering in tight quarters, sudden wind shifts are most unwelcome.
If approaching from points west or southwest, enter the Selway River Canyon from the west a few miles outside the wilderness boundary as shown on your sectional chart. This not only allows you to see Selway Falls as you fly over but also enables you to plan a cruise descent arriving at the airport at a pattern altitude of 3,500 feet. If arriving from a more southeasterly direction you may want to choose an initial approach point on the Selway south of the Shearer Forest Service Airfield to start your descent into the canyon. Coming from anywhere inside the northwest-northeast quadrant, you can use your sectional to pick the appropriate watershed that will allow a reasonable descent profile. However, the approach from Selway Falls is the easiest since the canyon is straighter. It also is wider and one can see the airport sooner.

Feature Article: Moose Creek, ID, by Martin Stentzel

Back to Pilot Getaways Home Page