Sedona Adventure, March 2013
---
Since Pilot Getaways started publication in 1998, many subscribers have written to us about trips they have taken after reading about particular destinations featured in the magazine. Have you had a great vacation based on something you read in Pilot Getaways? We'd love to share your experiences with other readers. Send your stories (and photos if you have them) to

and we'll publish some of them in our monthly bulletin, eFlightPlan. No professional writing or photography experience necessary!
My flight student, Jake, had passed his Private Pilot check ride with flying colors, but now wanted more experience planning long cross country trips, using flight following and negotiating through Class B airspace—aviation opportunities we don't have in western Montana. Jake was also anxious to get his high performance endorsement and check out in Helena's Sleeping Giant Flying Club's Cessna 182.
Jake needed at least 10 hours of dual in the C182, and my husband, Bill, and I badly needed a cure for Montana's March Malady: Cabin Fever. Pilot Getaways gave us the medicine.
Instead of flying around Helena for 10 hours we decided to plan an adventure that would meet all our needs and more. The November/December 2012 issue showed us the perfect prescription. Flying to Sedona, Arizona, would let us contact Salt Lake Center for transition through SLC Class B using the I-15 corridor, see the beautiful country around the Grand Canyon, find lodging and dining within walking distance of the airport, and provide us with more active outdoor opportunities than we could pack into three days.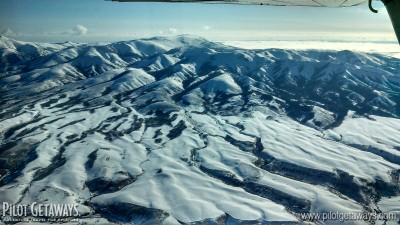 Our formula was for Jake to fly the Club 182 to Sedona with me as instructor. On top of the five hours of dual we put in at home to give Jake a good feel for the airplane, that outbound leg alone would give him all the necessary ingredients for his high performance endorsement. Meanwhile Bill would fly the southbound leg with Jake's wife, Betsy, in our Cessna 180. For the return trip, Jake would fly with Betsy and I would fly home with Bill.
March 23, 2013, we departed Helena (HLN) with safe but challenging weather for VFR flight. More learning opportunities! At a break in Idaho Falls (IDA), we discovered the C182 had a significant oil leak. No problem for Aero Mark! This FBO has a mechanic on duty even on Saturday who diagnosed and fixed the problem. Since it was now too late for further daytime flight and the weather was more questionable, Aeromark arranged for a stay at special rates in Le Ritz Hotel on the banks of the Snake River. Delicious seafood was found at the Sandpiper restaurant within walking distance of the hotel. So far, so good.
March 24 saw better weather and a successful transition through SLC Class B with the friendly help of the controllers at Salt Lake Center. After a pleasant break for fuel and a stretch at Richfield, Utah, (RIF) we flew on southward past the inspiring hoodoos of Bryce Canyon, and then over Lake Powell just east of the Grand Canyon, before angling west a bit and into Sedona.
After arriving at Sedona (SEZ), Jake was issued the airport's "Official Certificate of Qualification" for "having boldly faced tempestuous winds, a pitching and rolling deck, and then courageously landing on Sedona's Flat Top Airport in the Red Rocks."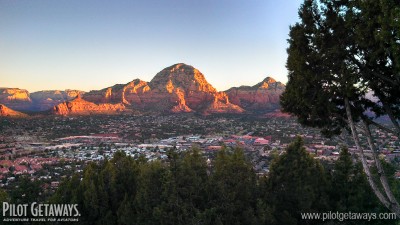 We stayed at the Sky Ranch Lodge, walking distance from the airport. Our patio had great views to the north, west and east, giving us a private lightshow every morning and evening, with the sunrise hot air balloons a bonus feature.
Our three day, two night stay gave us a taste of the area and left us with a thirst for more. The first day we found great hiking on the loop trail all around the mesa where the airport is located. That trail gives great views of Cathedral Rock, Coffeepot Rock, and many other landmarks, and also offers access to one of Sedona's famous vortices which concentrate energy and draw people from all over the world.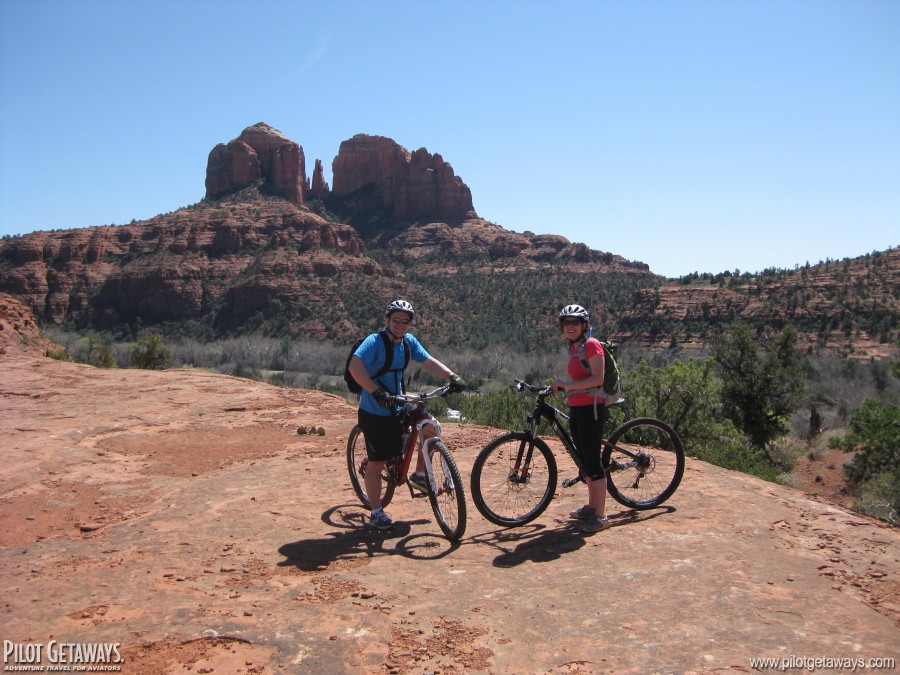 The next day we rented mountain bikes at Over The Edge in downtown Sedona and spent the day biking some of the numerous trails that reach every nook and cranny of the beautiful valley.
Dining at the Mesa Grill at the airport was consistently outstanding. We fell in love with the Butternut Squash Ginger Soup. Being serenaded with live music was like frosting on the cake.
With a little red dust on our shoes we said goodbye to warm sun and Sedona's red rocks with Betsy navigating for Jake and me joining Bill in "Charlie" (N9286C) our 1955 C180. Cabin fever cured.
Jeanne MacPherson 
Master CFI Aerobatic