Pilot Getaways - My Life-Changing Adventure
---
We're kicking off our first "Reader Getaway" with a submission from our own Technical Editor, who has been with the magazine since 2006.
Pilot Getaways has undoubtedly enriched the lives of many of its readers, but I have a hunch that, aside from the magazine's founders, John and George Kounis, nobody's life has been changed by it more than mine. Long before my professional association with Pilot Getaways, the magazine introduced me to a whole new lifestyle, and something I read in it eventually led us to move from Southern California to Idaho.
I started flying with my husband, a long-time pilot, in 1995. We rented Cessna 172s or 182s, and flew all over the western U.S. When we bought our Cessna 210 in 1997, our very first trip in it was a 17-day safari across America with our three kids, from Los Angeles to northern California and across to Utah, Nebraska, Indiana, Baltimore, Washington D.C., North Carolina, Florida, Alabama, Louisiana, New Mexico, Nevada, and home. The following year, I received a postcard announcement of a new magazine, Pilot Getaways. I was already reading half a dozen aviation magazines cover to cover each month, but this one was different—all about places to travel with your airplane! My check for a three-year Charter subscription was in the mail the next day.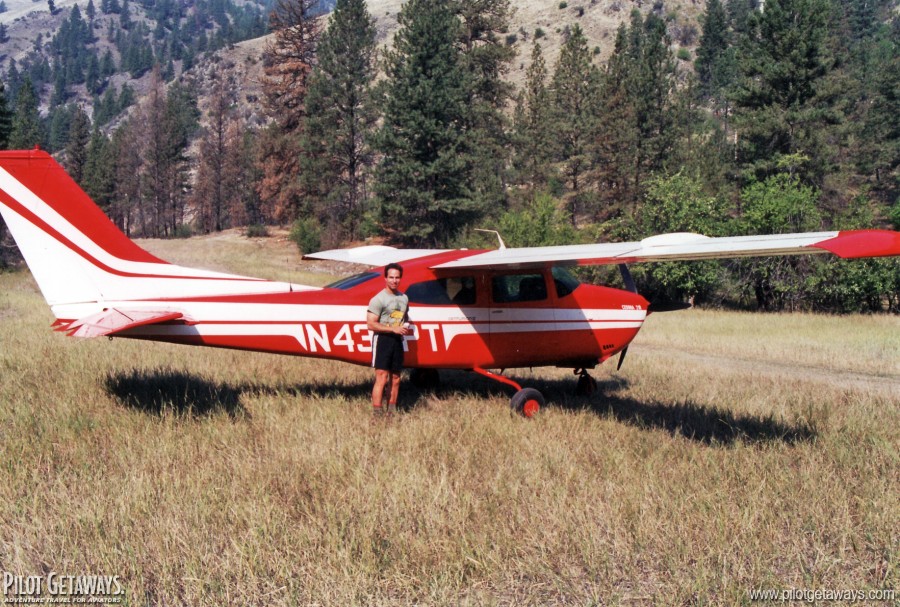 Pilot Getaways instantly became my favorite magazine; I devoured each issue and saved them all. We started almost immediately taking trips based on the articles we read. I wanted to go everywhere; some trips I knew we would make alone after our kids were grown, but other articles guided us to a variety of satisfying family adventures. One of these family trips was in 2003. We flew my mother to Mt. Rushmore based on a Custer, S.D., article. None of us had seen this incredible monument in person, much less from an aerial vantage point, and we didn't even dream of being surrounded by a herd of thousands of buffalo as we were on Dan O'Brien's ranch. Magazines in hand, we next stopped in Cody, Wyo., before visiting Yellowstone and Jackson Hole. The flight over Yellowstone's geysers and Grand Prismatic Spring was unforgettable. My mother had thought she might never see those iconic American landscapes, yet our airplane allowed us to explore them all in a week.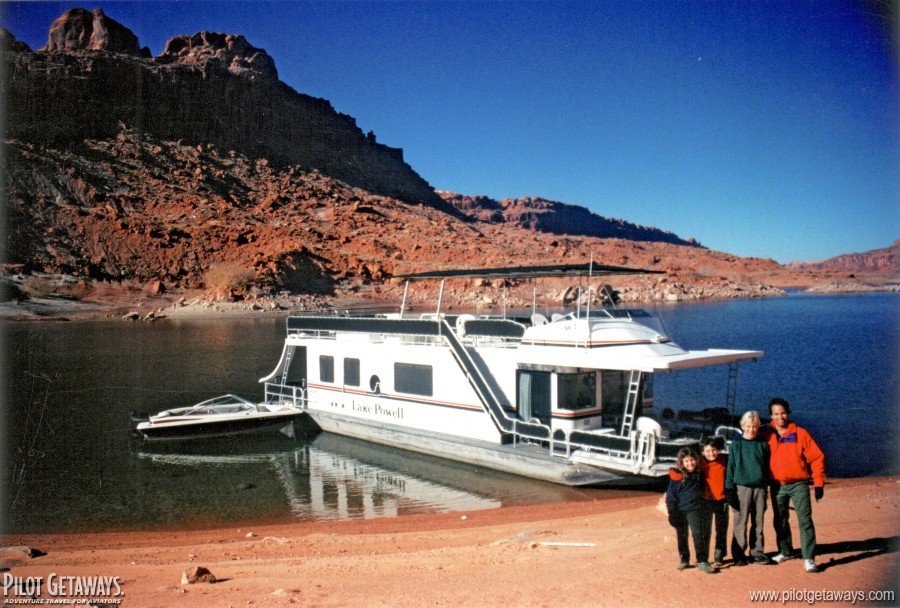 My summer 1999 copy is a bit dog-eared after being taken along to Orcas Island and Friday Harbor in Washington's San Juans in August of 2001. I saw my first wild killer whales on that trip, fulfilling a lifelong dream. We biked all over Orcas Island with our children. Then we flew to Vancouver and Victoria, B.C., with our Pilot Getaways issues as our guides. In the mountains above Vancouver I won a log-sawing contest. On Victoria Island, we toured the fantastic Butchart Gardens.
This trip brings me to how Pilot Getaways has most changed my life. In spring of 2001, I read a story about an airstrip on the Owyhee Reservoir, Ore., close to the Idaho border. But it was the sidebar that caught my eye: a letter, written by Kathy Miller, the president of the Idaho Aviation Association (IAA). In that letter, Miller described an aviator's association that had been successful in protecting Idaho's irreplaceable backcountry airstrips. The U.S. Forest Service was finalizing its resource management plans for the Frank Church River of No Return Wilderness that contains a number of iconic airstrips, and the IAA was urging members to write letters in support of keeping the airstrips open. Even though I lived in California, I immediately joined the IAA, wrote letters, and began to receive their newsletter, "The Flyline." I also saw that Pilot Getaways had a book called "Fly Idaho!" for sale, written by Galen Hanselman. I bought this book and suddenly a whole new world of aviation adventures opened up for me. (Kudos to Galen, by the way, for writing this book.) "Let's go to Idaho, this summer!" I exclaimed to my husband, who told me to go ahead and pick three airstrips out of the book and that we'd visit them in August.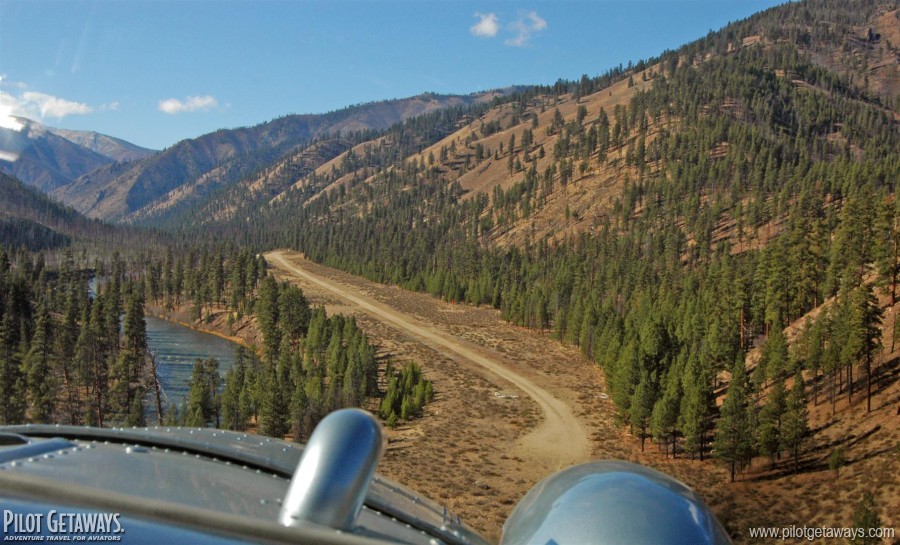 And that was how we found ourselves, shortly after dawn on a late-August 2001 morning, in our lightly-loaded, Robertson STOL-equipped Cessna 210, deep inside the canyon of the Salmon River. Tall pines rose seemingly just a few feet from each wingtip when we made a right turn onto the end of the grass strip at Wilson Bar. My husband plunked it down and we rolled to a stop with more than half the 1,500-foot strip still ahead—a good thing, as the mountains rose like a wall in front of us. To say it was exhilarating is to make a gross understatement. We had the place entirely to ourselves. We played in the river like kids, camped, and fell asleep to the sounds of the rapids. The following morning, we flew into Johnson Creek, where we watched giant salmon spawn in the shallow creek. The huge, exhausted fish had just completed an almost unimaginable journey from the Pacific Ocean to their mountain birthplace. I never thought I would see such a sight.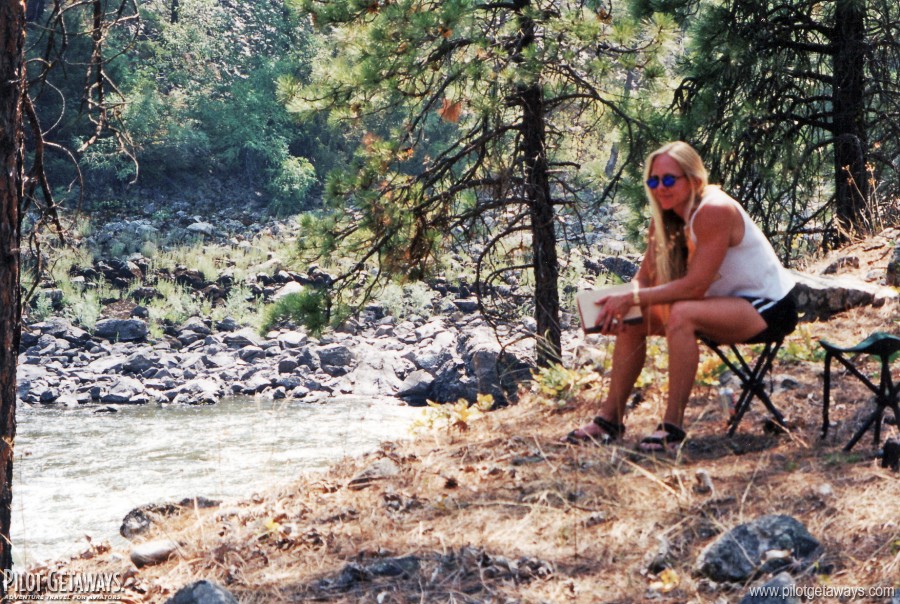 And as perfect as those two days were, even they were eclipsed by our third Idaho destination—Fish Lake. After flying over dozens of miles of dense forests with no sign of human habitation or roads (the Selway-Bitterroot Wilderness) the tiny lake came into view, with its grass strip just behind. We set our tent beside the lake and snuck into the forest. Standing in the lake were half a dozen cow moose, each with a calf by her side. When the mothers would thrust their massive heads into the water to pull up the plants they were eating, we'd tiptoe a few feet closer and then hide behind a tree before their heads came up again. In this way we spent an entire day spying on these magnificent animals. Later that evening, one momma moose approached our tent, which we quickly evacuated to give her room. She sniffed it nervously and then nearly jumped over it, passing to the other side. In the morning we found her tracks behind our tent, mere inches from where our heads had rested as we slept. Except for the moose and other wildlife, we had this glorious wilderness all to ourselves. As dawn approached, a slow mist rose from the pristine lake. From that moment, I was hooked on Idaho backcountry flying. We made more trips to Idaho, with and without our children, visiting strips like Cavanaugh Bay, Elk River, and our favorite, Fish Lake. Based on other Pilot Getaways articles, we visited Sandpoint and then Silverwood with its wonderful, small amusement park (now sadly closed).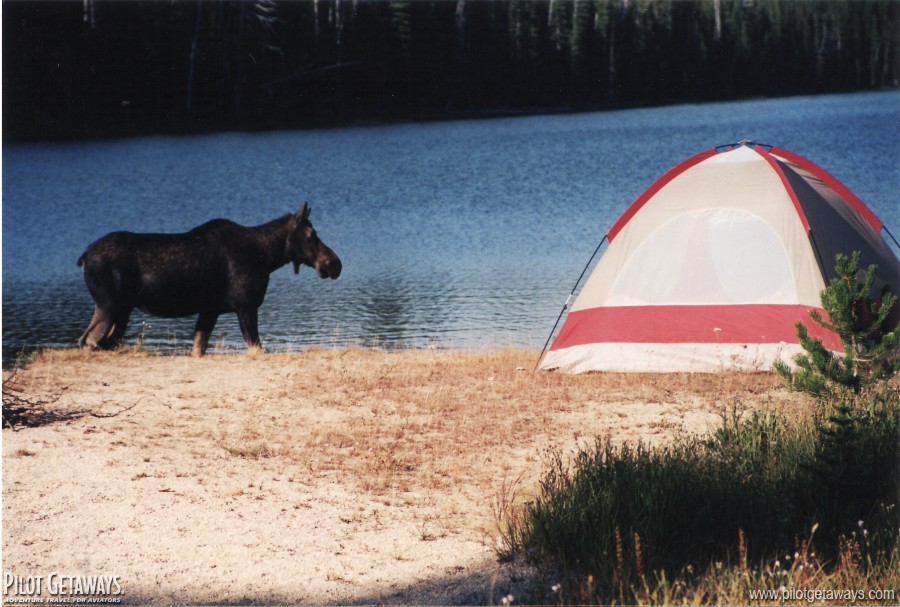 Ironically, it was a Pilot Getaways trip we didn't make that resulted in my employment here. In 2006, the magazine had published an article about flying to Baja California. I had always wanted to visit Baja for whale watching but we kept hearing of others who had their Cessna 210s stolen in Mexico, so I sent a letter to the magazine asking why they hadn't mentioned the threat of theft. Editor John Kounis responded right away. Rather than blowing me off, he wanted to hear details about what had happened to others. Thus began a correspondence that eventually led to John offering me a job as an editor with the magazine.
In the seven years since I started working for Pilot Getaways, I have made many trips on its behalf I wouldn't otherwise have taken, adventures that have been documented in its pages. (I may even travel to Alaska again this summer to fly a Super Cub on floats.) But our biggest life change came in 2011, when we packed up a lifetime's worth of belongings and departed our native California for Idaho. Now, in addition to my writing and Technical Editor duties at Pilot Getaways, I am the Editor of "The Flyline," the Idaho Aviation Association's monthly publication. I have dozens of new pilot friends here in Idaho. As I type now, I can hear quail, a pheasant, blackbirds, doves, and many other birds out my window. Deer come into the yard to nibble the grass (and my tomatoes). And Fish Lake, Wilson Bar, and Idaho's many other incredible backcountry airstrips are just a short flight away—all because of a seed planted when I read a sidebar in Pilot Getaways magazine.
- Crista Worthy,
Hidden Springs, Idaho
Have you had a great vacation based on something you read in Pilot Getaways? We'd love to share your experiences with other readers. Send your stories (and photos if you have them) to

and we'll publish some of them in our monthly bulletin, eFlightPlan. No professional writing or photography experience necessary!