You are hereLetter from the Editor
Letter from the Editor
---
flightplan

Welcome to the first Anniversary Issue of Pilot Getaways. For over a year, we have been helping thousands of pilots make the maximum use of their aircraft. We receive many letters relating our readers' excitement about flying to new places and having new adventures.
As we enter our second year, I am excited that we are expanding our focus to sponsor a self-fly African safari in conjunction with Hanks Aero Adventures and African Aero Safari. The tour will cover exotic places of great adventure and beauty.

Every continent offers natural wonders we can appreciate from the air. I am frequently reminded of the myriad sights that exist on our own continent. During the past year, we have had the pleasure of flying to only a few of North America's natural wonders, including the Grand Canyon, Glacier National Park, Baja California, and the Puget Sound. It is the freedom to enjoy these wonders from the air that attracts us to aviation and gives us an appreciation of our planet's beauty. In this issue, we fly to the Tetons, where you can enjoy a birds-eye view of Grand Teton-a sight usually reserved only for those with technical mountaineering skills. Other sights include Death Valley sand dunes, the unique Routt Blowdown near Steamboat Springs, and Saguaro cactus in the desert around Tucson.

It alarms me that the same areas we flew over to research the Spring issue could soon be off-limits. Despite the fact that only 50 complaints are received from the more than 5 million annual visitors to the Grand Canyon (1 complaint for 100,000 visits), legislation is scheduled to take effect on January 1 that will increase restrictions in the Grand Canyon area. Additional legislation is pending for Rocky Mountain National Park and the Taos Wilderness Area.

Since much legislation is targeted at air tour operators, general aviation pilots often feel that they are not affected. However, a dangerous precedent is set when aviation regulations are governed by politics, rather than air safety. The AOPA has pointed out that the Grand Canyon Special Flight Rules Area (SFRA) is particularly hazardous, since no controlling agency can grant clearance into the SFRA. Unlike a restricted area, controllers simply cannot authorize a deviation through the area, even in case of emergency or dangerous weather.

I believe it is our right to enjoy our country's natural wonders in our own way. Our national parks were established for us all to enjoy-not just from the ground. I propose that aircraft flying over a national park have less environmental impact than tour buses, which require roads, fuel stations, and rest facilities.

It seems general aviation's strongest voice is the AOPA. I contribute to the AOPA's Political Action Committee and am comfortable knowing that they are representing our interests in Washington. However, they cannot do the job alone. We must become aware of efforts to erode our freedoms and should voice our opinions when these freedoms are in jeopardy. Many of the FAA's notices of proposed rule making start out as bills in Congress. Let your congressperson know where you stand, so you can have an impact before these bills reach the FAA, and before it is too late.

We have taken one step to make it easier for you to be heard. If you want to take action, but are not sure how, visit www.pilotgetaways.com/speakout; there you'll find a sample letter that you are welcome to copy and send to your senator or congressperson. You'll also find links to U.S. Congress websites that help you identify your representatives.

When we enjoy any sight from the air, let's fly quiet and enjoy the beauty with minimal impact to those on the ground. But let us also fight to retain the right to enjoy our beautiful nation in our unique way.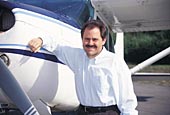 John T. Kounis

Editor in Chief