Ocean Rescue Course
---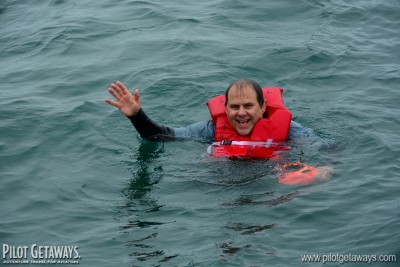 I have often flown over water in a single-engine aircraft. Sometimes, the flight is short, like 22 nm to Catalina Island, but other times, it has been as far as the 600+ nm over cold North Atlantic waters from Goose Bay, Labrador, to Narssarssuaq, Greenland. On every flight, the life boat on the back seat and my life preserver or immersion suit gave me the confidence that I was prepared for a potential ditching.
But could I really react to a ditching, exit the aircraft, inflate the raft, and climb into it in rolling, frigid waters? I thought so, but I had never even inflated the raft. In fact, the last time I had even seen it inflated was at AOPA Expo 1997 in San Jose, where I bought the raft from the Winslow Life Raft Company.
The May/June 2012 issue Flight Plan section covered a pool course I took with the H2O2 Foundation, a company that conducts self-rescue courses for pilots. This weekend, I had a chance to take it to the next level with their Advanced OCEAN course. This involved going out on a boat and performing exercises like donning life vests, boarding a life raft, firing flares, and dyeing the water on the open ocean.
The course started with classroom instruction by William Pass, who is a foundation board member, experienced ferry pilot, and also a certified life guard. William described appropriate equipment that will substantially improve your chances of survival—many of which are not so obvious. For example, a marine handheld radio tuned to channel 16 would immediately elicit a response from just about any boat in the area, whereas an aviation handheld radio on 121.5 MHz would likely only communicate with aircraft pilots who can offer their sympathy, but are unlikely to pluck you out of the water.
Board member Tina Dittmar, who is an American Red Cross Instructor trainer in Water Safety, Lifeguarding and CPR, First Aid and AED Training, followed with a discussion of life vest types and the physiology of drowning. I have to admit that her detailed discussions of the body's reactions to cold water and hypoxia made me apprehensive about the open-ocean part of the course that was still ahead of us.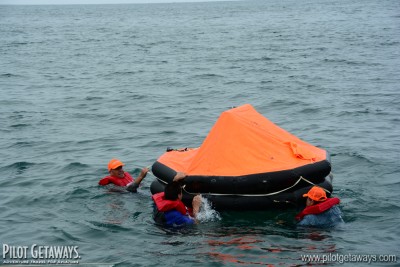 After a short break, our open ocean course began with a tour of the Harbor Patrol. It was a good opportunity to meet the rescuers who are likely to be the first on the scene if you ditch close to shore, but I think the ulterior motive was for William and Tina to remind them that we would be firing flares and dyeing the water, which would undoubtedly attract the attention of several boaters.
To make the exercise more realistic, we wore our street clothes. I brought synthetic clothes because I had been through the experience in a pool with blue jeans, which can absorb tremendous amounts of water, weighing you down and making swimming more tedious. William exclaimed, "that's cheating!", when he saw what I was wearing. To add challenge to the exercise, the raft was placed in the water upside down, too. The course instructors are not total sadists. We were allowed to wear wet suits under our clothes to offer some warmth in the 65-degree water.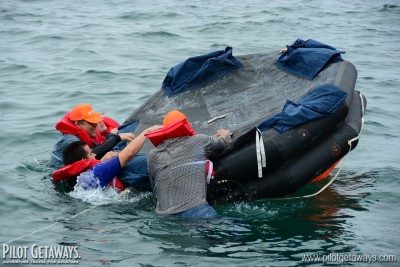 The day of our course was a typical Southern California "June Gloom" day: overcast and calm. Even with minimal swells, it was still a challenge to swim to the raft with our clothes and shoes on, flip it over, and climb into it. We worked in groups of four; all of us had to pull on the life boat straps to flip it. I don't think it would have been possible if I had been alone, especially if there had been rough seas. Climbing in was also a challenge, since the ladder is made of cloth straps and sways back and forth in the lightest of currents. It only extends a couple of feet or so below the water, which means you have to raise your feet very high to get to the bottom rung. This places you leaning back, and it takes a large effort to heave yourself forward and up out of the water into the raft.
As soon as we started lighting flares, firing a flare gun (wow! a 12-gauge flare gun has a surprising amount of kick!), and dyeing the water, channel 16 came alive with boaters reporting our plight to the Harbor Master. One boat even came to our "rescue" when we started firing flares into the air, demonstrating that these techniques are certainly effective at alerting boaters!
We left the course with a much more thorough knowledge of all the equipment that I had previously only seen neatly packaged in my survival kit. I feel more confident knowing what to expect, although I hope I will never need to exercise these newly acquired skills.