You are hereOver-Water Flying
Over-Water Flying
---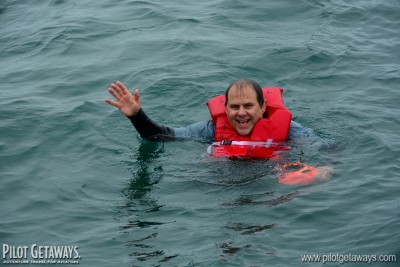 I have often flown over water in a single-engine aircraft. Sometimes, the flight is short, like 22 nm to Catalina Island, but other times, it has been as far as the 600+ nm over cold North Atlantic waters from Goose Bay, Labrador, to Narssarssuaq, Greenland. On every flight, the life boat on the back seat and my life preserver or immersion suit gave me the confidence that I was prepared for a potential ditching.
But could I really react to a ditching, exit the aircraft, inflate the raft, and climb into it in rolling, frigid waters? I thought so, but I had never even inflated the raft. In fact, the last time I had even seen it inflated was at AOPA Expo 1997 in San Jose, where I bought the raft from the Winslow Life Raft Company.
The May/June 2012 issue Flight Plan section covered a pool course I took with the H2O2 Foundation, a company that conducts self-rescue courses for pilots. This weekend, I had a chance to take it to the next level with their Advanced OCEAN course. This involved going out on a boat and performing exercises like donning life vests, boarding a life raft, firing flares, and dyeing the water on the open ocean.