Pilot Getaways is the bimonthly travel magazine for pilots and their families. We focus on having fun with your airplane at destinations from backcountry strips to exclusive fly-in resorts.
---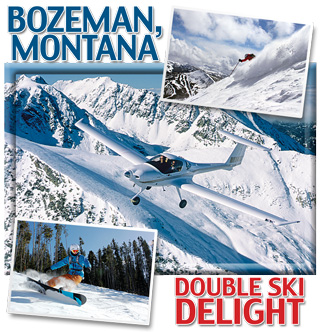 As the year winds down, thoughts turn toward fun wintertime adventures and this issue helps with providing a full slate of adventures: from outdoorsy activities in Oklahoma to one of America's biggest ski areas in the rugged mountains of Montana. Spend your days skiing in New Hampshire's beautiful White Mountains, and then curl up by a cozy fire in a historic New England hotel. Or head to the Southwest and step into a secret spot so strange it will feel like you just stepped onto Mars.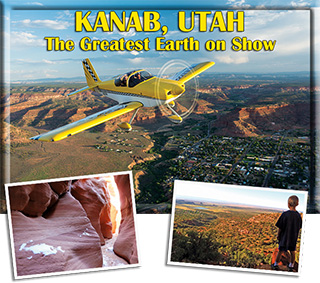 With autumn comes some of the best flying weather of the year. Thunderstorms and wind have abated, fires have died down, kids are back in school, vacation spots become uncrowded, icing hasn't reared its head yet, and forests from the Northeast to the canyons of the West are lighting up with leaves of red, orange, and gold. In this issue, we bring you a historic town in Virginia, spectacular red-rock canyon flightseeing, wine-, cider-, beer-, and brandy-tasting in Washington, an airplane factory tour, and a hip fly-in restaurant in the Los Angeles Basin.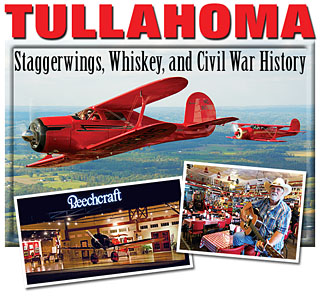 Just as we were finalizing this issue, we were struck by tragedy: our co-founder and editor-in-chief, John T. Kounis, passed away suddenly from a pulmonary embolism. In place of John's usual letter from the editor entitled "Flight Plan," our publisher and co-founder, George A. Kounis, wrote a heartfelt tribute to his older brother, business partner, and best friend. You can read it here.
As Pilot Getaways moves forward, we will continue to honor John's spirit of adventure that he brought to each and every issue.
This issue has some fun suggestions for late summer getaways, from two fabulous fly-ins and an aviation museum at one Tennessee airport to mysterious Indian ruins and an exclusive upscale lodge hidden away in the mountains of southwest Colorado. Or, fly to a remarkable corner of the Golden State that will allow you and your family to explore free from summer crowds. Finally, visit a cluster of Upper Midwest cities along the mighty Mississippi River, all conveniently accessed by a GA-friendly airport.
For 17 years, you have read a letter from my brother introducing exciting destinations and recalling our experiences for each issue. It is with a heavy heart that I am writing in his stead for the very first time. John died suddenly and unexpectedly early in the morning of July 13 from a pulmonary embolism.
He was not just my brother; he was my business partner, mentor, confidante, housemate, travel companion, hiking partner, scuba buddy, personal pilot, and best friend. As I am the younger brother, he's been around my entire life, and I know him better than anyone. I'd like to share exactly how amazing a man John was.
Since Pilot Getaways started publication in 1998, many subscribers have written to us about trips they have taken after reading about particular destinations featured in the magazine. Have you had a great vacation based on something you read in Pilot Getaways? We'd love to share your experiences with other readers. Send your stories (and photos if you have them) to eFlightPlan@pilotgetaways.com and we'll publish some of them in our monthly bulletin, eFlightPlan.