Lake Lawn Resort in Delavan, Wisconsin
---
Since Pilot Getaways started publication in 1998, many subscribers have written to us about trips they have taken after reading about particular destinations featured in the magazine. Have you had a great vacation based on something you read in Pilot Getaways? We'd love to share your experiences with other readers. Send your stories (and photos if you have them) to eFlightPlan@pilotgetaways.com and we'll publish some of them in our monthly bulletin, eFlightPlan.
It was some random weeknight a couple months ago and my wife got a call from her longtime friend. I could tell from one side of the phone call that they'd set a date and place for their wedding. Our friend is an international traveler so I was expecting some far off destination wedding in the Caribbean or Mexico, but instead I heard Wisconsin. "Wisconsin, huh?" I said, "Well, at least it's in the summer." It was going to be at a popular lakeside wedding destination in Delavan called Lake Lawn Resort, near Lake Geneva.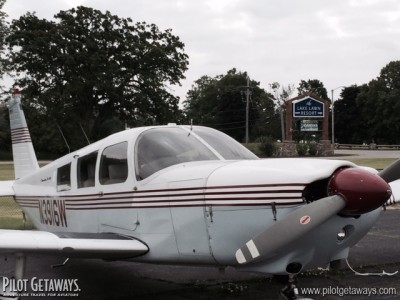 As any GA pilot does the first thing, I looked up what would be closest airport to fly there. But what's this? They have their own airport? This trip is getting better already! Once I knew where we were flying into, I took a look at the resort's website and its amenities and I was impressed. Our friend picked a great weekend wedding getaway, the perfect place for a "have-plane-will-travel" mindset.
I love flying into resorts like this; Grand Geneva, French Lick Springs, and Gaston's White River are just to name few in the Midwest. They offer great convenience for pilots and make for great personal or family adventures with memories to last. Lake Lawn Resort is one of these special gems and should be on the checklist for every pilot's getaway destinations.
You can check out their history online or at their website, www.lakelawnresort.com. It started as one of those '20s-era corporate retreats and evolved over time into a world-class resort from the '40s through the '80s. Then like most of these places, it ran into hardships trying to keep up in the '90s and changed owners several times. It was rescued and renovated in the 2000s and then re-opened after the great recession in 2011 with a fresh remodel and focus on service and quality.
It has a distinct Northwoods décor, with a strong Wisconsin touch! The resort offers a lot of amenities including three heated pools, 18-hole golf course, watercraft rentals, fitness center, game room playground, sand beach, volleyball, tennis and mini-golf. There's lots of stuff to do on-site and will keep everyone entertained during the stay. They offer a free transportation service if you want to get into town and explore Delavan and surrounding lake areas as well.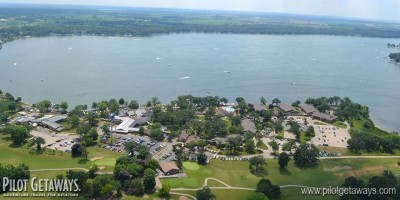 There are three restaurants on site: a nicer casual restaurant with great views of the lake from inside or on their patio, a quick-food café with breakfast items as well as sandwiches, pizza and salads, and a nice pub-style bar with full menu and great beer options. Typical Wisconsin fare includes lots of beer and cheese, which I happen to love! The meals we had during our weekend stay were all fantastic, and my wife highly recommends the Roasted Sweet Corn and Cheddar Au Gratin soup.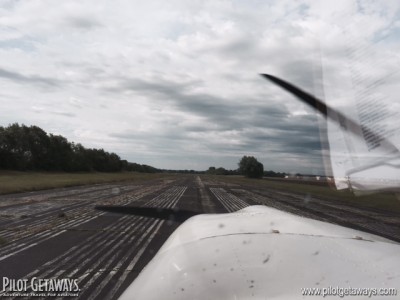 The airfield was a bit run down, and shows it hadn't been updated since the resort troubles in the 2000s. It's a 4400-foot asphalt runway with grass going through the cracks. I'd consider it in fair condition; however, completely safe to fly into. The ramp is spacious and offers tiedowns for rental if you don't bring your own. There is a County Travel Bureau office occupying the old airport terminal building that's attended seven days a week so I felt comfortable with leaving the aircraft tied down there. The airport is across a busy street from the resort, but easily walkable; however, call the front desk when you land and they'll send a car to pick you and your bags up.
Overall I was really impressed with the resort and our experience for the short stay we were there. If it wasn't for our friend's wedding, I don't think I would have ever known about this resort. It is quite a gem and a great place to fly into. My wife and I are already planning a weeklong return trip next summer with the kids; I know they will love it.