You are hereCrossing the Continental Divide - Part 2
Crossing the Continental Divide - Part 2
---
The Challenge and Beauty of Colorado
by John T. Kounis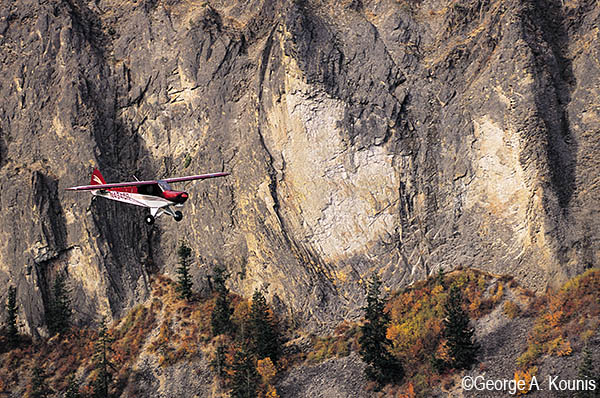 In the last issue, we covered the most popular routes across the Continental Divide, primarily along interstate highways as far north as Montana and as far south as Arizona. In this issue, we will elaborate on the more difficult—and perhaps more scenic—routes through Colorado. You definitely need to fly high to cross Colorado; in fact, the lowest point in the state is 3,315 ft. (higher than the highest point of 18 other states). Although most east-to-west routes cross mountain passes at 10,000 ft. or higher, if you take the time to plan an appropriate route and fly in good weather, you'll be rewarded with views of some of the most beautiful mountains in the United States.
A great planning tool is the free Colorado Aeronautical Chart, available from the Colorado Division of Aeronautics, 5126 Front Range Pkwy, Watkins, CO 80137, www.colorado-aeronautics.org/aeroform.cfm. It depicts common flyways, many of which are described in this article, with black diamonds. The "Mountain Flying" section of the Colorado Pilots Association (CPA) website is another excellent planning resource with a map and mountain pass information (including lat/lon) on many more passes and gaps than found on the Sectional or WAC charts, www.coloradopilots.org. (The CPA was instrumental in placing AWOS stations at popular mountain passes.)
Before flight, it helps to program into your GPS the coordinates of the passes you intend to cross. In flight, the location of the high point of some passes may not always be obvious when you are surrounded by mountains, especially if the weather starts closing in. With the waypoints already programmed, you'll know in an instant if the highest point of a pass is in front of you, in which case the escape route is likely a 180-degree turn, or the highest point is behind you, in which case it may be safer to continue straight ahead (downhill).
Since weather changes rapidly in the mountains, you should update your weather information frequently while en route, in addition to getting a thorough weather briefing before you depart. Due to an extensive network of Remote Communications Outlets (RCOs), it's usually possible to contact Denver FSS even in some rather remote areas. There are also a dozen AWOS systems at key passes and mountain peaks throughout the state that can provide some of the most crucial weather information. After all, you are much more likely to encounter bad weather in a mountain pass than in the valleys, where most airports are located. For an online index of AWOS stations in Colorado, visit www.colorado-aeronautics.org/awosphonefreq.htm.
The following suggested routes cross the state of Colorado from west to east, but you can easily follow them westbound by reversing the directions.
Northern Routes
At first glance, it may appear that Interstate 70 would be easy to follow across the state. It is…until you reach the Eisenhower Tunnel. In strong westerly winds, this area is known for heavy turbulence, and airplanes go down here regularly.
It is usually safe to follow Interstate 70 in the western part of the state. After passing Grand Junction, you can get weather updates from Rifle ASOS and Eagle AWOS. However, once you reach Dotsero, it is better to fork north and follow the railroad tracks and Colorado River upstream past Kremmling to Granby. Continue following the railroad tracks as they turn south toward Winter Park, where you can cut east through Corona Pass toward Jeffco Airport (BJC). [Corona Pass is no longer depicted on the Denver Sectional and the CPA is working to get it reinstated. It's about 2 nm south of Rollins Pass, and just west of East Portal, which are both depicted.] The Corona Pass AWOS was recently decommissioned and a replacement is under study by Colorado Division of Aeronautics.
Avoid the Corona Pass area in bad weather (especially in strong westerly winds), since extreme downdrafts and turbulence are possible on the east side of the pass. In this case, you could continue farther north from Kremmling to North Park and the town of Walden near the Wyoming border. From there, you can fly around the north end of the higher mountains; if that's not possible, the terrain continues descending to the north toward Interstate 80 in Wyoming.
If your destination is farther south, local pilot Rob Duncan recommends you continue east along Interstate 70 past Rifle and Eagle to Minturn (before Vail), and then fork south along U.S. 24 toward Red Cliff to avoid the Eisenhower Tunnel area. Fly through 10,424-ft. Tennessee Pass, and then continue downstream along the Arkansas River past Leadville (the highest paved airport in the U.S. at 9,927 ft. MSL). At Buena Vista, you can then select one of two eastbound directions, either through 9,487-ft. Trout Creek Pass then 9,502-ft. Wilkerson pass, or else continue via Salida and to Pueblo.
Central Routes
A more southerly route along U.S. 50 from Montrose to Pueblo is also popular. En route, you can get weather from Montrose ASOS and Gunnison AWOS. After you pass Gunnison, you may be tempted to continue following the highway eastbound through 11,312-ft. Monarch Pass to Salida. However, Monarch Pass is deep and narrow, and takes a sharp turn making winds in the pass unpredictable. Approaching the pass, listen to Monarch Pass AWOS on 124.175 MHz and avoid it in strong winds. It is usually easier to detour south and fly through 10,149-ft. North Pass or 10,845-ft. Marshall Pass into the San Luis Valley.
From the San Luis Valley, you can rejoin U.S. 50 by flying north through 9,101-ft. Poncha Pass (note this is a much better choice than 10,709-ft. Hayden Pass, which always seems to be turbulent). If Poncha Pass is blocked, you can detour farther south through 9,382-ft. La Veta Pass or 9,412-ft. North La Veta Pass around the south side of the Spanish Peaks, or through 9,740-ft. Mosca Pass 20 nm northwest of La Veta. An AWOS above La Veta Pass at 10,216 ft. can be heard on 119.925 MHz up to 60 miles away, helping you choose the best route. Often, the calmest route is through Mosca Pass; it's on the east side of the Great Sand Dunes National Monument, so you'll have a scenic flight that way, too.
Between Interstate 70 to the north and U.S. 50 to the south are a few alternate routes that cut diagonally across the area. From Montrose to Aspen, you'll find the route along Colorado Highway 133 through 9,018-ft. McClure Pass particularly scenic, with views of deep canyons and 14,000-ft. peaks. (This is one of my favorite routes, as fall colors are brilliant here in late September.) You'll be on your own as far as weather information goes near the pass. Once you cross McClure Pass, you can listen to Glenwood Springs "Automated Unicom" on 123.0 MHz. You can "request weather" by clicking the mike three times to activate it.
Continuing east from Aspen to Leadville, the most obvious route is along Highway 82 through 12,093-ft. Independence Pass. However, Independence Pass is long and very high, making it one of the most dangerous passes in the Colorado Rockies. Downdrafts are common, and airplanes are lost there regularly, even with experienced pilots at the controls. A safer alternative is to divert north to Ruedi Reservoir and then fly east through 11,960-ft. Hagerman Pass, or fly even farther north to Granby and Corona Pass (see above). East of Leadville, the mountains climb rapidly to 14,000 ft., so you'll likely have to fly south to Buena Vista and then east through 9,487-ft. Trout Creek Pass or detour north through 10,424-ft. Tennessee Pass to Corona Pass to continue to Denver.
Southern Routes
Between the U.S. 50 routes described above and the New Mexico border, the San Juan Mountains tower with more than a dozen peaks above 14,000 ft. Routes directly through these mountains are best reserved for experienced mountain pilots, due to the rugged terrain. (In an appropriate aircraft in good weather, you will find 11,120-ft. Red Mountain Pass and 10,222-ft. Lizard Head Pass beautiful, with views of remote alpine lakes, lush mountain meadows, and abandoned mining camps. Your options won't be good up there if you have an engine failure, though.) Otherwise, you can skirt the southern end of the San Juans by flying from Cortez (CEZ) to Durango (DRO).
If the weather is good, you can continue northeast to Pagosa Springs (2V1) and then through 10,857-ft. Wolf Creek Pass into the San Luis Valley. When you reach 2V1, you should be able to see well into the pass. Local pilot John Huft aims for the flat top butte in the middle of the pass, which takes him right over the ski area. An AWOS on 121.125 MHz at 11,760 ft. just south of the pass can help you assess the weather. From the San Luis Valley, you can continue via one of the routes shown above (likely Mosca Pass).
If Wolf Creek Pass is blocked, try 10,022-ft. Cumbre Pass to the southeast, on the New Mexico border. The pass is easy to navigate since a scenic railroad follows the route over the pass to Alamosa. Otherwise, your only other option may be to fly southeast around the mountains past Abiquiu Reservoir to Taos, New Mexico, and attempt 9,101-ft. Palo Flechado Pass by Angel Fire, or go even farther south to Santa Fe and follow Interstate 25 around the south end of the Sangre de Cristo Mountains to Las Vegas, New Mexico.
The routes depicted in this article are some of the lower ones across the state of Colorado. However, they still require an appropriate aircraft and mountain flying skills. The minimum safe altitude you can fly the lower routes is 11,500 ft.; the higher routes such as Independence Pass and the transitions through the San Juan Mountains may require 14,500 ft. or higher. If one of the passes is blocked, the detour could add 100 miles to your trip, so carry ample fuel reserves. Also, always have an escape route available, so you can turn toward lower terrain if you encounter sudden downdrafts. If the winds aloft at the level of the peaks exceed 30 kts., you really should consider postponing your flight.
The precautions in this article should help you prepare for your flight, but they shouldn't prevent you from enjoying the beauty of the Colorado Rockies. If you haven't flown in the mountains before, dual instruction from a qualified mountain flying instructor will reap benefits later. The CPA conducts Mountain Flying Seminars in Denver with experienced CFIs, this year on Jun 17 and Aug 19, $120–$145, www.coloradopilots.org/content_mtnfly_class.asp.
For years, I have felt that the color brown on the sectional (indicating high terrain) equates to scenic, exciting flying. After a flight across Colorado, I'm sure you'll share the same feeling, too.
Click here to go back to the first article in this series, Crossing the Continental Divide—Part 1, Flying the Interstate Highway System.