La Gartia Creek Ranch
---
The La Gartia Creek Ranch Fly-in to southern Colorado was on the last weekend of May, organized by the Colorado pilots group — http://flycolorado.org. The Fly-In was very nice – even though it was a drive-in for me and Susan – forecast thunderstorms on Friday when we needed to arrive. Lots to do. Lots of parking, and the field is quite adequate with trike gear airplanes as well as the conventional gear, though my preference would be for conventional as the occasional bit of high grass and loose sand on the surface may have eroded a few prop tips for those with short ground clearance. The field dries out very rapidly, and the soft tiedown area mentioned in lead-in information was not a factor at all. Density altitude didn't present a problem that I saw, as most folks planned conservatively or brought plenty of power. There was a 1946 J-3 Cub (with the "BIG" engine – 85 hp) that did fine, but, like I said, the single pilot planned appropriately, and 85 hp is adequate for a 1000# airplane.
It was a great weekend, even without flying, but the weather should be better for the fall fly-in they are planning (no date yet). There are lots of hiking and sight-seeing opportunities, the option of rustic cabins (but with hot water and showers) or tent camping, good fishing in the creek that runs through the ranch. There is direct access to National Forest trails from the ranch, including picturesque Penitente Canyon.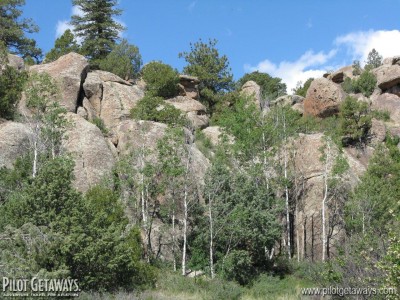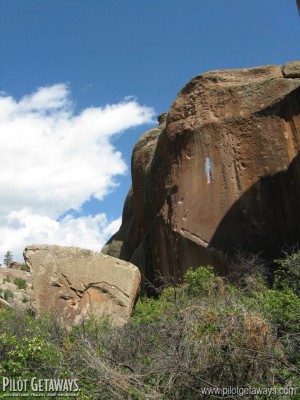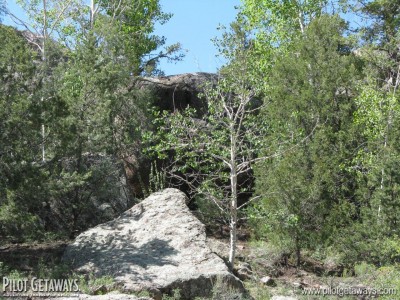 Bring a bike or plan a long walk if you want to get to the north side of Penitente Canyon. Most folks flew to Hooper Pool on Saturday afternoon. They welcome pilots and airplanes at the pool with their dirt strip. Only "problem" is that you don't go there to cool off, as the pool is fed by hot springs. Quite adequate kitchen and plenty of tables and chairs in the lodge for meals, and the locals put on a good barbeque spread on Saturday night. Dinner on Friday night at the cash store in La Garita village was a worthy aviation adventure!
The only flight issue was turbulence at the mouth of the canyon on Saturday afternoon which affected the landings for those returning from Hooper Pool or other outings. Everyone got back OK, but the kibitzers on the porch had plenty to comment about!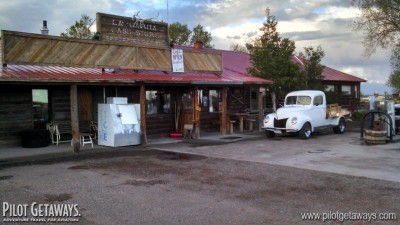 We had lots of help with breakfast, sponsored by NMPA. The proportion of sausage to eggs seemed very appropriate, but the sausages were quite popular, and we ran out -- good information for future planning. The excess eggs were popular with the kids on Saturday afternoon for playing catch!
They are planning another fly-in in the fall – probably September. The weather then should be better with much less chance of rain and wind.
Dick Perry, Del Norte, Colorado