Nemacolin Woodlands Resort
---
A week of extremes… from camping in a muddy field in Iowa to staying in a beautiful resort in Pennsylvania. Gotta love aviation!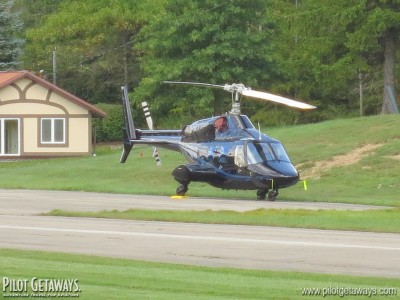 On Wednesday morning, after a nice breakfast, we made our way to Landmark Aviation FBO on the north side of Pearson airport. We met up with our friends Richard and Marilyn Cooper, loaded our luggage into C-FFUN and were ready to make our way to Nemacolin Woodlands Resort, located southeast of Pittsburgh. The flight was very smooth and we made it to the resort mid afternoon.
Nemacolin is situated on 2,000 acres in the Laurel Highlands. The Resort property has been continuously owned by the Hardy family since 1987 and they are responsible for developing the property into the world-class resort that it is today. Kurtis and I had read about Nemacolin several years ago in Pilot Getaways magazine. The resort has it's own private 3,900 foot paved airstrip located right behind the main Chateau. It had been on our list of places to fly to and we finally made it.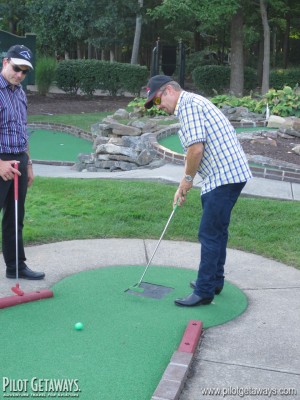 After getting settled in to our rooms the 4 of us ventured out for a walk and made it to the mini golf course. We had fun playing a round. Following that we made our way back to the main building to clean up for our dinner reservations. There are 3 fine dining restaurants and 7 or so casual restaurants on the resort. We opted to start things off with a nice dinner at Autumn, one of the fine dining restaurants. The service and food were excellent and was a wonderful way to end our first day away.
The next day we went on a guided "Safari Tour". There were only 5 guests on the tour plus the guide. We were taken around via golf cart to the various animal enclosures. We were able to get pretty close to some of the animals (lions, tigers and bears, oh my!) and even feed them with a metal rod through holes cut out in a specific area of the fencing. It was a very fun tour.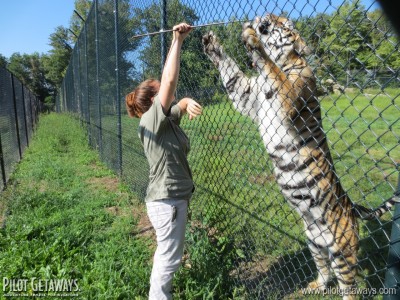 In the afternoon we had a tour booked at Fallingwater, built by Frank Lloyd Wright. It was designed in 1935 and construction on the main house was completed in 1937. It is one of Wright's most famous masterpieces. Throughout our tour it was evident that every tiny detail was meticulously thought out and designed to fit in with the natural surroundings. It was also hard to believe that Wright conceived of the house in 1935 – it was very modern and cutting edge for it's time.
Friday was a relaxing day. Marilyn and I had spa treatments booked at the Woodlands Spa while Kurtis and Richard killed time playing with Foreflight on their iPads. We had dinner reservations at Aqueous located in the Falling Rock hotel which was on the other side of the resort property.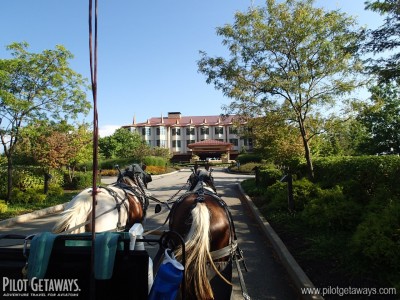 A horse drawn carriage was our transportation from our hotel (The Lodge) over to Falling Rock. The Amber Bar made us some excellent pre dinner cocktails (a mocktail for me!) which we enjoyed on the outdoor terrace. Dinner was first-class. Our appetizers, main courses and desserts were all carefully crafted and full of flavour. It was a fantastic way to end our last evening at Nemacolin.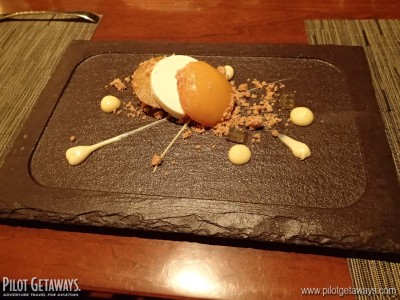 The next day we had a leisurely breakfast, did a little shopping at the resorts Heritage Court Shoppes, grabbed a bite for lunch and then loaded up C-FFUN to make our way back home. We made a pit stop at Grove City to check out the outlet mall (which is conveniently located very close to the airport). It was pouring rain when we arrived there but one of the local guys at the airport loaned us his car so we didn't have to walk in the rain. The best thing about shopping in Pennsylvania is that there is no sales tax on clothes!!
We made it back to Toronto just as the sun was setting. We got a pretty good view of Pearson airport on our approach in along the west side. It was a perfect few days away!!
- Christina Arnold, Toronto, CAN
www.madlyoffinalldirections.com