Kellee-Set-Go![es] to Curacao
---
For my moonlighting job, I often get to go on amazing trips all around the world. Recently, I was sent to Curacao—a small Dutch island in the Caribbean just off the coast of Venezuela—by the Tourism Board to make a travel video highlighting adventures on the Island. My moniker Kellee Set Go! represents the ultimate adrenaline junkie who seeks adventure by Land, Air, and Sea, so as a pilot, my first instinct was to rent an airplane and go up to see the island from a bird's eye view before I explored down below. I thought would be interesting as I had never flown out of the country before.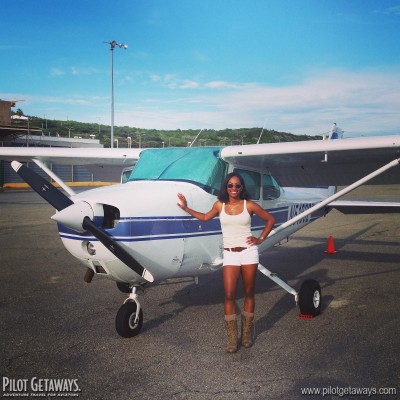 So how exactly would I go about doing this? The answer was simple: find a flight school with an N-model airplane, the easiest way to fly out of the country with an FAA issued license. After some research and a few emails later, I was set to fly on a Wednesday morning with Falki Aviation located at Hato International Airport.
The morning-of was gorgeous, which was a relief because the day before the island was experiencing some serious trade winds that would have made for an incredibly bumpy ride. I then met up with Ramed, a young guy in his twenties who also flew for the Coast Guard, who would do my check out. Once we were in the air, at about 2000 AGL, I set out to spot a few of the places that I would be visiting during my stay. From the air I spotted Jan Thiel Beach where I would experience Zapata Flyboarding which turns you from land dweller to Ironman in a matter of seconds over the Caribbean Sea. I also flew over Williemstad, Curacao's colorful capital where its floating bridge bound the two sides of the city, which sits nestled in a natural harbor.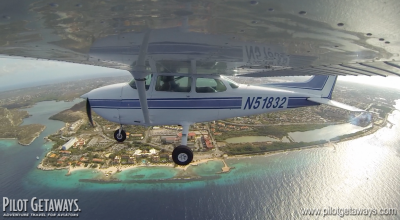 The views were truly beautiful and the coastline, mesmerizing with the different hues of blue. There is something about sightseeing from the air flying GA that will never get old. I revel in the fact that any given day I can get in an airplane and just go. From the moment I decided to get my license I dreamt of the moment where I would fly far beyond my normal comfort zone in an unfamiliar place. THIS was that moment, one I'll never forget and the first of many more to come.
- Kellee Edwards, Toluca Lake, CA