Seaplane Rating with Alaska Float Ratings
---
I found the end of my rainbow in Moose Pass, Alaska, a couple of weeks ago.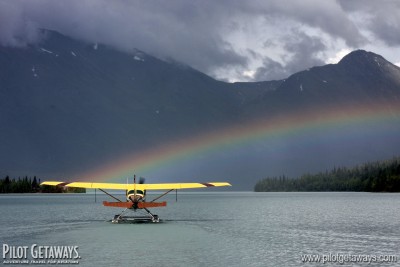 After writing about Alaska Float Ratings (pglinks.net/mj13), I decided to take my own advice and go get a seaplane rating. Evan, one of Alaska Float Ratings' great CFIs, picked me up in Anchorage in a Cessna 172 on floats. A short 30-min flight through the green-carpeted, glacier-carved Chugach Mountains brought us to Upper Trail Lake, home of Alaska Float Ratings and Scenic Mountain Air. Vern Kingsford has been a CFI for 49 years and has developed an exceptional program!
www.alaskafloatratings.com
Upon arriving at Upper Trail Lake, Moose Pass, where Alaska Float Ratings is based, I greeted the staff and was escorted to my private and very comfortable cabin (with shower, heat, fridge, and sink), just a few steps away from the docks. Even though it was very light out, it was 10:30 at night and time to get some rest before our training began the next morning.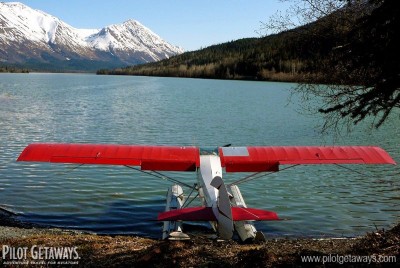 I had spent substantial time at home getting ready for the seaplane course, which turned out to be a very good idea. All students should come prepared because there isn't a minute of your precious time wasted here. It's all Class G so you taxi out and get going right away, with about a dozen lakes within a few minutes' flight, each a different milky turquoise color, size, and shape. One day we landed on a tiny remote lake chock full of Arctic Grayling. The lakes are at 500 MSL but the mountains rise to about 6,000 MSL with narrow canyons everywhere, so it's real Alaska mountain flying.
The transition from the Cessna I'm used to, to a Super Cub, was easy; it's such a fun and intuitive airplane to fly. I flew two different Super Cubs with different floats and instrument arrangements and with three different CFIs. I found alternating instructors to be a huge advantage, as you get different perspectives. With floats, nothing is laid out for you—you have to watch everything and decide how to proceed, read the wind patterns on the lakes, which change often, look for debris, and choose touchdown and abort points, etc.
One of their many superb training exercises is called the Roller Coaster. Take off and then pull the power to idle at 100 feet to simulate an engine failure at that worst time. You learn just how quickly you have to push the stick forward to maintain glide speed. Next thing you know, you are pointed right down at the water. The anticipation of impact makes you want to pull back and flare but if you do, you'll drop the airplane, so they teach you how to wait and pitch up at just the right time to set it down nice and smooth on the water… then full power again, take off, 100 feet, pull the power, and back down you go, over and over. This burns the actions needed for an engine failure after takeoff into your muscles and brain, and burns that sight image in, of coming down and not pulling back too soon. What a great lesson for this type of emergency, one that applies to both land and seaplanes! I could never get this sight picture and practice at altitude, and I never had a CFI do this on land either.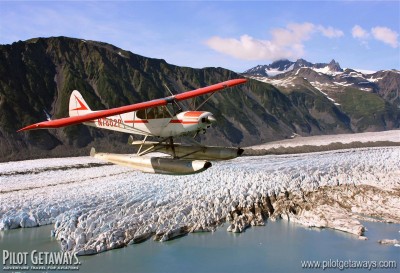 It has always been my ultimate flying dream: to fly in Alaska. The Kenai Peninsula has it all: gorgeous blue lakes, giant glaciers, big bears, moose, eagles, salmon, and wonderful fishing. When you're up in a float plane with so many gorgeous lakes to choose from below, the world becomes your oyster. And flying a Super Cub on floats in this challenging environment not only improved my stick and rudder skills, it got my eyes out of the cockpit looking for clues everywhere: ripples on the water, leaves blowing in the wind, crosswind gusts--you could actually see them coming. One day I watched a bald eagle circle below me, riding a thermal and looking for a meal below. Alaska is a national treasure.
Summer's not over—I'm hankering to go back for more!