You are hereWe Acquire American Air Campers Association
We Acquire American Air Campers Association
---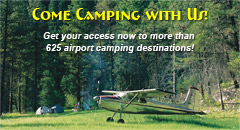 Pilot Getaways magazine has teamed up with our friends at the Recreational Aviation Foundation (RAF) to acquire the American Air Campers Association (AACA). We are proud to provide you, our valued Pilot Getaways subscribers, FREE access to AACA's online detailed database of airplane camping facilities, transportation, attractions, dining, and lodging at more than 600 airports nationwide.
This agreement combines the best of our three organizations: the great information about fun places to fly in Pilot Getaways, access to AACA's useful database of more than 600 airplane camping facilities, and the labors of the RAF, a non-profit organization that has been successful in keeping your favorite airstrips open and even creating new public use airstrips!
To obtain your AACA log in, visit http://www.pilotgetaways.com/aaca/register.