You are hereDigital and Print Subscriptions
Digital and Print Subscriptions
---
Pilot Getaways is the bimonthly adventure-travel resource for pilots, aircraft owners, and their flying companions. Have fun with your airplane from wing camping at backcountry strips to exclusive fly-in resorts. Each article features everything you need to enjoy exciting expeditions, romantic getaways, and memorable flying vacations. Registered subscribers also get free access to the American Air Campers Association database. Whether you buy a single issue or sign-up for a full subscription, Pilot Getaways is the ultimate tool to actively seek out and plan your aviation adventures!
PRINT SUBSCRIPTIONS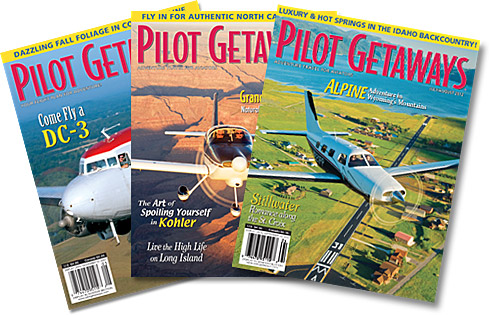 Print subscriptions are available through this website starting at $19.95 per year. Visit our subscription page to have Pilot Getaways magazine delivered to your mailbox: https://pilotgetaways.com/subscribe.
DIGITAL SUBSCRIPTIONS
Read the latest issue on your desktop, laptop, iPad, Android, tablet... any flash-capable computer or browser-enabled mobile device! Click on http://pglinks.net/digital to check out a free preview issue.
iPAD APP
iPad digital subscriptions may be accessed through the Pilot Getaways iPad App. Just sign up through our digital subscription page, download the app, and log-in to your subscription on the iPad.
**Currently, our eagerly awaited iPad udpate is under review with Apple and should be rereleasing within the month! All existing iPad subscribers and digital subscribers will have automatic access to their subscription by logging into the iPad app. Contact us for details!**
So, what's the difference between Pilot Getaways iPad app, and Pilot Getaways digital magazine?
Access the digital edition by logging into your online account where you can view your magazines on a web-reader with any Flash-enabled computer, or via HTML5 delivery on all capable mobile devices (no Flash needed). You may purchase single issues, as well as one, two, and three-year subscriptions at increasing discounts.
The iPad app is a free download available through iTunes. The app downloads with the current preview edition and through it you can log-in to your account to access your purchased, full single and subscription issues in a dedicated iPad application. Any issue downloaded to your iPad is available offline, without an internet connection.
Both editions (iPad & Digital) are fully interactive and multimedia-loaded, though each presents some features and behaviors in a slightly different way. Both the iPad app and the digital online version offer a free preview of the current edition for you to try out with no obligation. Click here to check out the current sample issue and sign-up for a subscription: http://pglinks.net/digital
And, of course, our print subscription is also available. (If you want it all, check out our combo pricing!) As always, each subscription comes with free access to the American Air Campers Association database, as well.
Browse a free preview and subscribe to your preferred option, today!